Volunteer Athlete Encourages Inclusion and Sportsmanship On and Off The Field
Meet Daily Point of Light Award honoree Madison Bauerle. Read her story and nominate an outstanding volunteer or family as a Daily Point of Light.
As a student athlete at Appoquinimink High School, Madison Bauerle is always on the go, and the Middletown, Delaware high school senior will be even busier next year, as she heads to the University of Pennsylvania to play Division 1 softball and study biophysics. A dedicated teammate on and off the field, 18-year-old Madison is changing lives in her community through volunteerism.
Madison volunteers for Special Olympics alongside student athletes with intellectual disabilities through the Delaware Interscholastic Athletic Association (DIAA)/Special Olympics of Delaware (SODE) program Unified Sports. Playing on the Unified football and basketball teams, Madison is an inspiring leader, helping to promote inclusion and giving kids of all abilities the chance to play.
What inspires you to volunteer?
Because of my family and friends, I've had opportunities to do the things I've dreamed of. Volunteerism is a reminder of the responsibility to give back to others that are in need. Sports have always been a passion of mine and sharing that passion with other students has been really rewarding.
Describe your volunteerism.
I'm a volunteer with Special Olympics and also a volunteer athlete at Unified Sports, which has multiple teams at our high school. I play with Unified Sports during Fall and Winter sports seasons, and then help out with Special Olympics other times of the year. I'm currently helping to start up the softball program for Special Olympics in Delaware. I've connected with dozens of athletes and serve as a teacher, player and coach for Unified Sports, helping kids with intellectual disabilities on the field and off, as a partner with them in the classroom.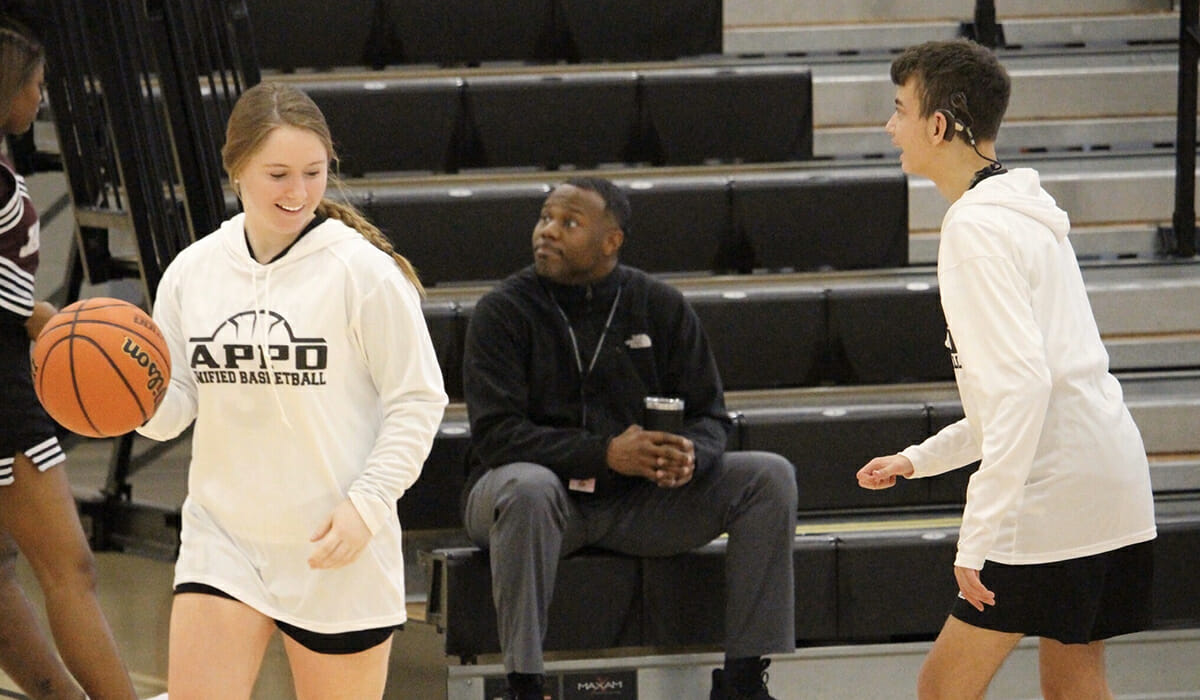 Share one personal story with me from your volunteerism.
I first became buddies with a boy named Logan in middle school, he's now a lifelong buddy of mine. We play flag football and basketball together through United. He's had lots of health issues and is now fully deaf and bound to a wheelchair. He loves all kinds of sports and we've bonded over our love for sports and competition. Logan inspired me to join Unified and to help more kids. Over the last two years he's made a full recovery, progressing and learning how to live with his disabilities. He recently told me he is going to come watch me play sports in college. It is nice to see my effort with Logan in the classroom turn into a meaningful friendship that won't end once I graduate.
Why do you think it's important for others to give back?
People really need to come together and find more similarities with each other than differences, especially during times like this. We are all extremely fortunate, and it's important for people to take time to build each other up to our full potential.
What's been the most rewarding part of your service?
It's rewarding to see kids, especially in the Special Olympics, find enjoyment in sports and building friendships that they never would have before. Our volunteerism promotes social inclusion on and off the field.
How have you continued to volunteer throughout the COVID-19 pandemic?
We've adjusted our service in response to the pandemic, and how we think about sports. A lot of in-person activities have been difficult. We'll practice with the team over Zoom, we don't solely focus on the physical part of sports, but we talk about sportsmanship as well. We are still giving students that feeling of teamwork through distanced in-person events, virtual activities and practices.
In one word, what does volunteering mean to you?
Humility.
When you're not busy volunteering or in school, what do you do for fun?
I love softball. I love being outside. I'll spend time with my parents whether it's walking, hiking or canoeing.
How can readers help?
Please visit Unified Sports and Special Olympics of Delaware for more information about how you can help.
Do you want to make a difference in your community like Madison Bauerle? Find local volunteer opportunities.
Share this post