Volunteer Champions Sisterhood and Success for Minority Girls Through 'Evoluer House'
Meet Daily Point of Light Award honoree Cheryl Ann Wadlington, who was a 2020 L'Oréal Paris Women of Worth Award. Each year L'Oréal Paris and Points of Light recognize and celebrate Women of Worth who make a beautiful difference in their communities. Ten honorees each receive a $20,000 grant to support their most cherished cause, and an online vote determines one honoree who will receive an additional $25,000 grant. Nominations for 2021 will open on March 1! If you know a woman who works to create lasting and significant change in her community, nominate her to be one of the 2021 Women of Worth.
Cheryl Ann Wadlington had the career girls dream of. After attending the Fashion Institute of Technology in New York City, Cheryl worked as a fashion and beauty editor, her glamorous life the result of hard work and smarts. But the road to success was a windy one for Cheryl, who struggled after the death of her beloved father.
"Like most little girls I was devastated (about his death)," says Cheryl. "As a child I didn't know how to handle his death, and it wasn't popular in the African-American community to take children to therapy. I started misbehaving, I started fighting out of anger. I got sent to reform school."
About to graduate from high school, a counselor told Cheryl her grades were so abysmal that no college would want her. That was a turning point in Cheryl's life, as the teenager decided she was going to turn her life around. "A lot of women in the community reached out and wrapped their arms around me to make sure I succeeded," she says. Cheryl is now replicating that care and mentorship for thousands of girls across Pennsylvania, Delaware, New Jersey, and more recently nationwide through the Evoluer House, an organization she founded in 2004 to guide girls of color to bold and bright futures.
"I am giving back and empowering that little girl because I know who she is, I was once her. Research shows existing barriers stifle success for colored girls. Even in the way educators looked upon (girls of color) the minute they entered the classroom, they were excluded from excelling at an elevated level, and were given limited opportunities. We're helping girls of color, who are being discriminated against across the board, to thrive. The Evoluer Girl is the best version of herself. She loves herself and knows who she is. She knows she is going to evolve."
Six times more likely than their white counterparts to be suspended from school, Black girls have had their identities stripped from them, says Cheryl. Offering evidence-based empowerment programs for girls aged 13 to 18 like personal development and youth workforce on topics ranging from financial literacy to resume writing, professional etiquette, sexual health and healthy relationships, Cheryl is bracing her students against the tremendous adversity they face and equipping them with essential tools to become college-bound and career ready.
"By the time one young lady came to us, her mother had taken her out of the public school system because she was beat up and bullied for being dark-skinned, and for being what her mother described as 'thick'. Her self-esteem was absolutely stripped away to the core. After the program, her mother wrote me a letter saying, 'You did what I could never have done, you gave her her life back.' I cry hearing that story. We shed so many tears here."
That student eventually began teaching seminars on bullying after she graduated from the program, just one example of the sisterhood being developed at Evoluer, where girls can break boundaries, share experiences and become agents of change in a safe environment, says board chairwoman Suktika Mukhopadhyay. Through gender responsive, culturally relevant and trauma informed programs, the 8-week Evoluer program includes wellness and confidence building for students, many of whom have experienced some form of trauma, 95% of students coming from low-income homes. Designed to help break the cycle of intergenerational poverty for teens impacted by chronic adversity, violence and oppression, Evoluer is setting students up for success where they can see beyond the realities they come from, sometimes even beyond their wildest dreams, says Suktika.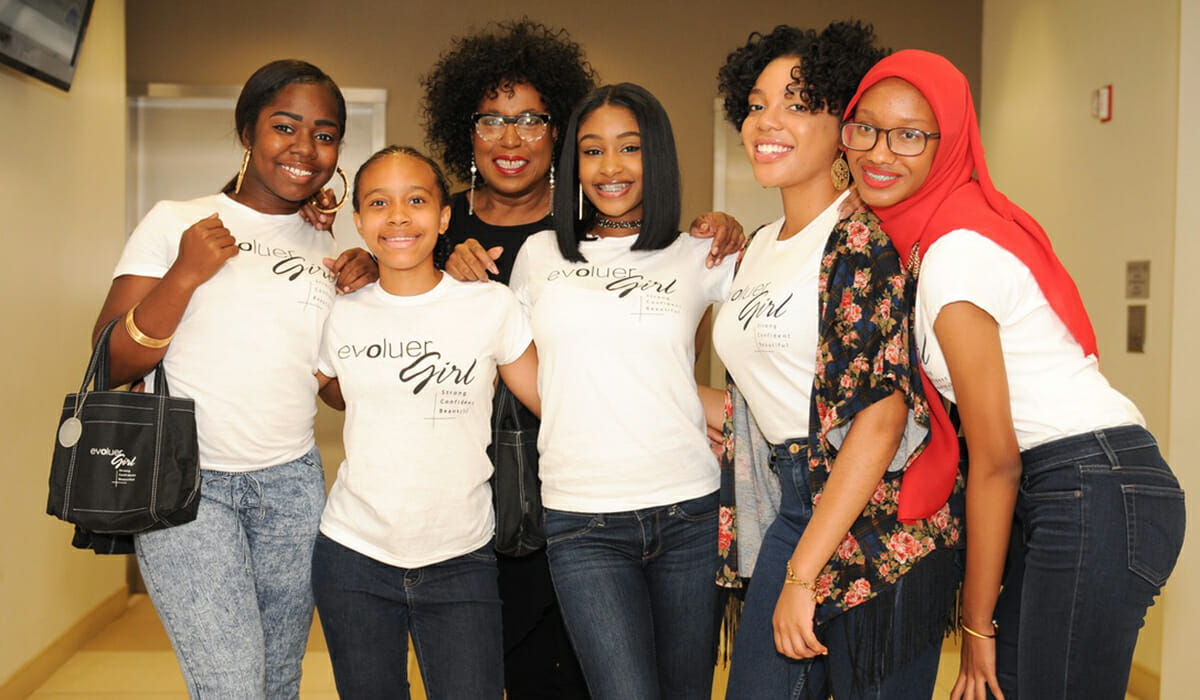 "We really pride ourselves on 100% of (Evoluer) girls finishing high school and in addition, we see them flourish and go on to prestigious universities and ivy-league schools. Some girls may be the first in their family to go to college. Through confidence building and modeling how they can achieve these goals, we are giving (girls) a community and sisterhood, so they're not part of 'other' but giving them something of their own."
That emphasis on personal well-being and growth has been critical in the last year, as students grappled with the devastating personal and economic impact of the pandemic in addition to widespread racial unrest. Evoluer has transitioned programs online, now offering virtual education to teen girls of color nationwide. Helping to give girls a strong voice during such socially isolating times through resources including their 'Girls Truth' podcast, Cheryl says her unrelenting drive to succeed in life is reflected in her service helping to bolster future success for girls.
"I will not settle for anything less than excellence. I have a list for our teen girls called the "Diva Girls" list. It separates out the Diva Girl from the ordinary girl. The ordinary girl will accept whatever someone gives her. A Diva Girl won't. An ordinary girl will stand in the corner where a Diva Girl will work the room. These girls graduate (from our program) and come out gold. It's really incredible."
Reflecting upon her path from childhood to present day, Cheryl says her service is a continuation of her family's legacy, her mother marched alongside Martin Luther King Jr., her brother served as an activist during the HIV/AIDS epidemic in the 1980s. For Cheryl, the path forward is perhaps the brightest.
"I want to advance all girl kind and I want all girls to be free. We are on a mission to help produce strong female leadership in the workforce and in society, by investing in young women and girls and their collective well-being and power. I'm hoping that the next female president will come out of the Evoluer House. It's about time."
Do you want to make a difference in your community like Cheryl Ann Wadlington? Find local volunteer opportunities.
Share this post
---