Volunteer Dedicates Retirement to Feeding New York State Community
Meet Daily Point of Light Award honoree Theresa O'Brien. Read her story and nominate an outstanding volunteer or family as a Point of Light.
Theresa O'Brien and her husband have long been financial supporters of Dutchess Outreach, a community nonprofit that helps fight food insecurity in the Poughkeepsie, N.Y. area. When Theresa retired two years ago, she knew she wanted to become involved in a more hands-on capacity. Since then, she has served as a committed volunteer each week and was also elected to their board of directors last year.
Three times a week, Theresa helps cook a hot lunch to be served to anyone in need through Dutchess Outreach's Lunch Box program. She also participates in the Farm Stand program each month, helping to sort and hand out fresh produce. As a board member, Theresa serves on a couple of different committees, including the Fundraising Committee, with which she helped to raise $25,000 for the nonprofit last year.
Describe your volunteer role with Dutchess Outreach.
Dutchess Outreach is a community nonprofit organization that focuses primarily, but not exclusively, on food insecurity throughout Dutchess County. It's located in the city of Poughkeepsie, which is probably where the greatest need is within the county. We have a number of programs set up to assist. The two primarily ones are the food pantry which provides groceries to whoever comes and needs them. The one I am most involved in is our Lunch Box, which provides two hot meals a day to whoever comes and needs them. I work primarily the lunch shift. Because of COVID, we distribute meals in a grab-and-go fashion. We serve anywhere between 80 to 100 meals at lunchtime. Our numbers have gone up during the pandemic. That's my primary role. I was also elected to the board of directors about a year ago, so I'm on a couple committees there to try to help move the organization forward and help further our goals.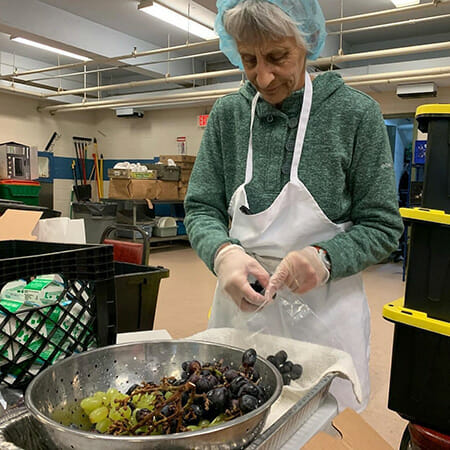 What do you do as a volunteer with the Farm Stand?
We get usually between 6-10,000 pounds of produce every month from the regional food bank, which we then distribute to whoever comes up and wants it. Pre-pandemic, we would set up long tables and people would come through and tell you what they wanted, and we would hand it to them and help them put it in their bag. With the pandemic, we've gone more to a model of sorting food into bags and just handing out bags. What I really liked about the pre-pandemic model was if we were handing out a piece of produce that perhaps I wasn't familiar with, someone would tell you what to do with it, how to use it, what kind of recipe you might want to use it in. I found that very interesting and a lot of fun.
What is your role with the Fundraising Committee?
I got involved late last year because I was just elected to the board. Our primary event was called Coupons Against Hunger, where we went to various restaurants and solicited coupons from them to provide something from their restaurant — a free drink with a meal, a certain percentage off of the meal, something along those lines. We then compiled all those coupons into a booklet which we sold for $100 a booklet, and that was our primary fundraising event last year. I helped solicit those coupons.
Are there any future partnerships, programs, or events that you are excited about?
We have the same fundraiser that's about to kick off, our second Coupons Against Hunger. We will start to solicit coupons from providers the middle of September and then our booklets will go on sale. Our target is in early October. We hope to surpass last year's dollar amount.
Do you have any other goals you would like to see Dutchess Outreach achieve?
I think what I would really like to see is to continue our outreach. Our primary clientele is the city of Poughkeepsie. I would like to see the outreach expanded to other parts of Dutchess County. While I believe the need is greatest in Poughkeepsie, I'm sure there are pockets of hunger in every community throughout the county, so I would like to see us expand our outreach.
Why is it important for you community to have the resources that Dutchess Outreach provides?
I think there's no need for anyone to go hungry in this country. It's a shame that there's so much food insecurity throughout the country for the country that we are. If someone's hungry, then obviously they're not taking care of other needs. I think if we can help eliminate that hunger, they can focus on other needs — taking care of themselves, looking for a job, or if they have a job, performing well in that job. Any number of things that if they're hungry, they're not able to devote their full self to.
What's been the most rewarding part of your work?
Feeling like I make an immediate difference in someone's life by providing them food.
Why do you think it's important for others to give back?
Because you never know when that person could be you, and because I think it's important that when people are able to give back, they do. My husband and I are very fortunate. We've never had to worry where our next meal is coming from. We've never had to worry about where we're going to spend the night. For us not to share what we can is just plain selfish.
Do you want to make a difference in your community like Theresa? Find local volunteer opportunities.
Share this post