Volunteer Photographer Captures the Smiles of Families in Need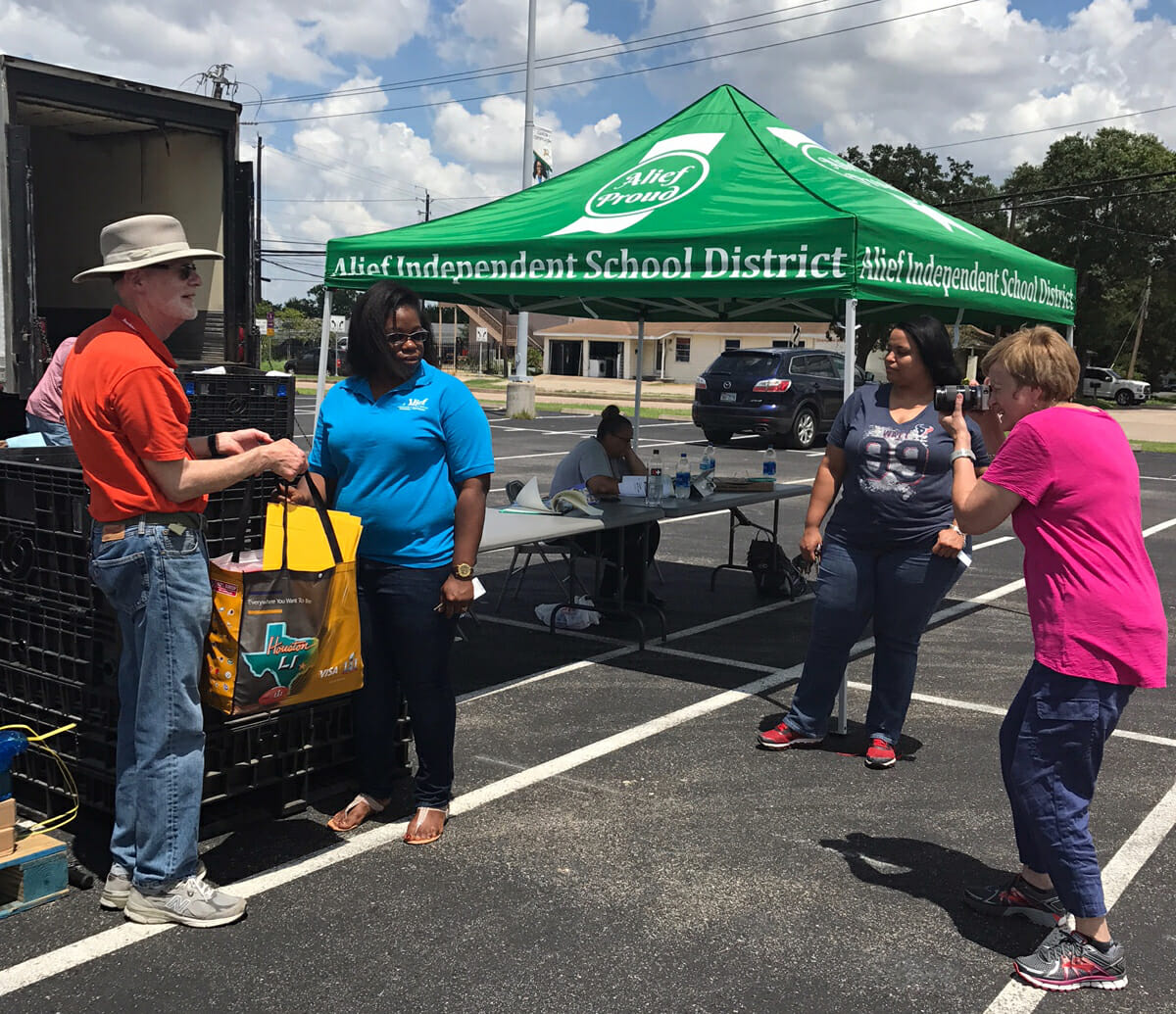 Volunteering comes in all kinds of flavors. For photographer Jill Lefforge, the chance to chronicle the good being done by the Houston Food Bank is her way to make a difference. Capturing the smiles, the eyes, the faces and the families being served gives her incredible satisfaction and speaks volumes about the Food Bank's mission.
What inspires you to volunteer?
I had a pretty stressful job and when I was laid off, I wanted to do something that would rejuvenate me. I'd always dabbled in photography, so I decided to contact some local nonprofits to see if they could use my services. The Houston Food Bank said yes. They just have so much going on all the time. Life is hard enough – everybody needs help sometimes. The Food Bank is there for people. I just think we're put on the earth to give back.
Describe your volunteer role with the Houston Food Bank.
There's a cardinal rule in photography – focus on the eyes when you're doing a portrait. I shoot so many kids at the Food Bank. I see hope in their eyes and I try to show that. People tell me powerful stories, of not having enough food to feed their kids despite working full time. I shoot at events, at the emergency pantry, whenever I'm needed. These photos are used on the website, social media and some get printed and hung on the Food Bank's lobby wall.
How have you grown personally through your service?
My eyes have really been opened to how astonishing the need is in my own community, how much help is really needed on so many levels. There are so many nonprofits trying to make a difference. If I can just generate some help for these organizations through my photographs, I will be so thankful.
What's the most challenging aspect of your volunteer service?
Sometimes I'm just so moved by what I'm shooting that it can be intense. I recently photographed a graduating class of intellectually disabled kids. It was so moving. Those kids are three times as motivated as I will ever be. So staying focused on what I need to do can be challenging some time.
Why do you think it's important for others to give back?
That's why we're here on earth – to help each other. And when you're helped, it makes you want to help others. If my photographs inspire even one person to volunteer, that would be huge. You don't have to have a special skill, just show up and roll up your sleeves. It's fun!
What's been the most rewarding part of your work?
When it all comes together and I know I'm making a difference, that's the best. When I photograph those kids, see their joy and hope and can translate that to a photograph. That's an amazing feeling.
Are there any future partnerships, programs, or events that you are excited about?
The Food Bank has so many projects all the time, and they make it fun. They have an annual Selena celebration, with a look alike contest, karaoke. There's a Texans Football day, with team members there – the kids love it. The Food Bank makes it fun and enjoyable while they're doing good work.
What do you want people to learn from your story?
It's easy to volunteer. You don't have to have any special talents, just go and help. It's so easy to do. Pick one, drive there and go! They'll put you to work.
Do you want to make a difference in your community like Jill? Visit All For Good to find local volunteer opportunities.
Share this post