Volunteer Spends Almost a Decade Teaching English to Dallas-Area Immigrants and Refugees
Meet Daily Point of Light Award honoree Kristl Evans Linenschmidt. Read her story and nominate an outstanding volunteer or family as a Daily Point of Light.
Nine years ago, Kristl Evans Linenschmidt's mother invited her to come help co-teach her English classes at Literacy Achieves, a nonprofit she had been volunteering at for years. Despite no history of being an educator, Kristl decided to join her mom in teaching literacy and life skills to non-English speaking adults in Dallas's Vickory Meadow neighborhood, which houses thousands of immigrants and refugees. Almost a decade later, while her mother has since retired, Kristl is still going strong.
She currently teaches two morning classes, where she works tirelessly to help her students achieve their goals. The students come from over 50 countries and speak a myriad of languages, although Kristl says love is the universal language that brings them together. She has become so dedicated to her volunteer work, that Kristl completed a Second Language Teaching Academy certification at Brookhaven College in order to better help her students.
"Now I kind of laugh and say I'm a certified ESL instructor working as a freelance bookkeeper to support my volunteer teaching habit," Kristl said.
Describe what Literacy Achieves does.
Literacy Achieves is a 501(c)(3) nonprofit that was established in 1997 by members of the Preston Hollow Presbyterian Church, which is actually my church. The initial mission was to help adults learn English in the Vickory Meadow area, which is a low-income neighborhood with thousands of immigrants and refugees. The past 23 years, it's experienced steady growth and really been able to increase the impact with their program. Today, Literacy Achieves serves about 1,100 adult students and 320 young children annually at three different campuses in the Dallas area. They are located in neighborhoods of highest need, so that helps with time and transportation and child care and money. Having neighborhood access to these quality programs is a big deal. The classes are free of charge. They contribute 30 dollars for their books. Basically it's teaching language and life skills. That is done through between 300 and 350 dedicated volunteers that do it. It's really pretty impressive. It's done through this two-generational approach, which is while the adults are learning English, the children are also being taken care of. There's an early-childhood education program in conjunction with the adult literacy program. That makes it a really holistic, integrative approach.
What's really awesome about it is that we hosted on-site visits in collaboration with the World Affairs Council, which is a high-level State Department delegation that come through the U.S. International Visitor Leadership Program. The delegation wants to study best practices for refugee resettlement and they were specifically requesting to met with Literacy Achieves, with our group, to discuss the various sorts of literacy programs and the approach to ESL instruction that accommodates the entire family. Just last week, we had a whole delegation from Estonia. I hadn't met anybody from Estonia before so that was kind of fun. The way the volunteering works is there are morning, afternoon and evening classes, so it accommodates people in the work force that have to come at night, and then the early-childhood program is during the day. It's a team-teaching model so every classroom has two teachers. Classes are two hours, four days a week. So it's two hours Monday, Tuesday, Wednesday and Thursday in the morning, in the afternoon and in the evening. You would have a team of different teachers every day, so that's where the army of teachers comes in with the almost 350 volunteer teachers.
What is your role with Literacy Achieves?
I teach two classes. I teach what is called a morning 1A class and a morning 1C class. I follow an established curriculum that is published every year by the school. We are given a set of books. We have the student text, student workbooks, and then we have a teacher guide. Everything is so well organized and so well laid out, so we know that I teach Tuesday mornings and Wednesday, and looking at the curriculum I'm supposed to cover these four pages in the student text and these two pages in the student workbook. Of course we are free to make adaptations to that and to expand, kind of explode the lesson if you will — get it off the page and make it relevant to these students' lives and needs and that kind of thing. If we're doing something like leaving messages on a telephone, we can practice leaving our own messages. I like to get them to write their messages and then record them on the cell phone, and then I can play it back on the speaker in the computer so they can hear it. Depending on what level people are, we can practice writing down the phone number that people are leaving, or what the message is, or the name of the person, that kind of thing.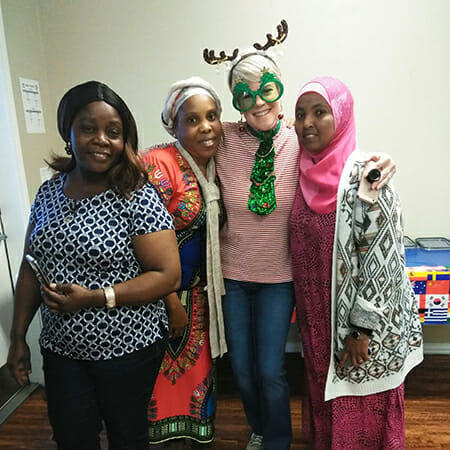 What about this organization has made you want to keep coming back year after year?
It's the students. The organization itself has got this great model that mobilizes all these volunteers. It's got this great mission. It's very innovative and it's so well organized and so well run. It's got great leadership. The students are so amazing because they come from over 50 countries. It kind of blows my mind that we've had people from Peru, Honduras, Togo, [Democratic Republic of] Congo, Guinea, Uganda, Rwanda, Syria, Iraq, Iran, Israel, Mexico, Burma, Eritrea. Well, I don't speak French of Farsi or Burmese or Arabic or Somali or Spanish or Liberian, so we need a common language. I say that part of what we're doing at Literacy Achieves is cross-cultural communication and community. Because gosh, we've got 50 different countries and just as many languages so we need to be able to communicate with each other, so we've got this cross-cultural communication thing. Then the community building is just so amazing. We're doing it [by] offering these English lessons, but there's so much more to it. My students teach me about resilience and determination and ingenuity and generosity, and it's a beautiful thing. We all learn we're in this thing called life together. Love is the universal language and we speak a lot of it in class. Living for the 'aha' moments where somebody understands the concepts, but even more than that, the hugs and the high fives when there's the feeling of 'Oh, I can do this, I'm capable, I'm understood, I'm accepted.' It's about building relationships.
Why is it important for refugees and immigrants to have access to this type of tutoring?
I think the lack of English literacy limits things like access to employment, effective parenting, preventive healthcare. It increases the vulnerability of living in poverty, and there's a clear correlation between more education and higher earning. We want to get people engaged in the community and able to take care of themselves and their families, and to be effective parents and good employees and good citizens in the community.
What have been some of your student success stories?
I can't even tell you how great the students are. Kurdo Banko is a Syrian refugee and he got this great job at this restaurant in Dallas named Hibiscus. Chef Graham [Dodds] took him to New York to make these crazy rabbit tortellini things, this rabbit dish, and it was like, 'Wow, Kurdo really made it.' And yet, what he really wanted to do was be a tailor, because that's what he was in Syria. He is now a tailor in the suburb of Dallas and he is making women's suits and prom dresses and evening gowns. It is amazing. All these people come here for a better life, and they really want to engage and they want to participate and they want to contribute and they want to give back. Blanca is a student from Mexico and she completed four years at the school. She now runs a parent support group and she acts as a liaison to other parents who need help. Mojgan, one of my level four students, she was a proud momma of a 15-year-old [Rooha] who got involved with the international street art awareness campaign called 'Education is Not a Crime.' We're all richer when we can share our gifts and our experiences, and our community is better for it.
What's been the most rewarding part of your work?
When I talk about Literacy Achieves, I say that the spirit of cooperation and compassion that I see in my class gives me hope for the world. These are beautiful, amazing students. When I leave for class, my husband says, 'Go be a blessing,' and I always say, 'I'm going to get a blessing.' The most rewarding thing is really seeing the growth in the students, and the growth in confidence and the growth in capability, and the impact on their lives with having more confidence, with being able to [achieve] whatever their goals are. You've got a spectrum of language learners. You've got the beginners, and the goals are simple things like 'I need to understand my environment, I need to be able to read community signs and street signs, and to know that an H actually stands for hospital, and I need to read simple notices.' Then it becomes 'I need to talk to my doctor and help my child in school or talk to their teacher.' Then as we gain more language, 'I want to apply for a job or keep a job or get a better job.' What's great is every class gets to determine their own set of goals, which is where the flexibility and the customization part of the classroom comes in. When I was teaching with my mom in a level four class, they had outlined all these goals — to go to college, to understand my paycheck, those kinds of things, and then the goal was help each other in life. For me it was kind of like 'Boom, wow, that's it, you've got it.' In the business world, we might phrase it by saying networking or team working or community building, but I really like the way they phrased it. Their goal is to help each other in life. It is that spirit of camaraderie and compassion that you feel walking into Literacy Achieves that drives me to want to come back and do more.
Why do you think it's important for others to give back?
I think everybody has got something to give. Part of what's so great at Literacy Achieves is you don't have to have any teaching experience because the curriculum is so well organized. You just have to have a little bit of compassion, and an interest in getting to know students. That whole idea of how people might not remember what you said but they'll remember how you made them feel — I think we can all reach out and make people feel welcome and accepted. Everybody can do that. We just have a well of experiences that we can share with one another.
What do you want people to learn from your story?
To engage with people that aren't like us. To engage with people from all over the world. I say that it's kind of a mini United Nations with students from all these different places. When we get to know each other, we become a community. Engage, engage.
Do you want to make a difference in your community like Kristl? Find local volunteer opportunities
Share this post