Volunteer Superman Flies COVID-19 Tests to Ease Burden on Medical Staff
Meet Daily Point of Light Award honoree Ivy Cadle. Read his story and nominate an outstanding volunteer or family as a Daily Point of Light.
42-year-old Ivy Cadle says his small plane is just a "Honda Civic with wings," but the Macon, Georgia plane enthusiast came to the rescue this summer by serving as a volunteer pilot for Angel Flight Soars.
Dedicated to providing free flights for life-changing medical treatments and care, Angel Flight Soars began transporting COVID-19 PCR tests as the pandemic raged out of control and people were desperate to learn more about their health. When Ivy realized that he could join the fight against the coronavirus by volunteering to help others during such uncertain times, he took action and delivered tests to nearby cities by air. Soaring for service, Ivy helped to get faster results for patients and eased the burden in the logistics chain for healthcare heroes in his greater community and across the Southeast.
What inspires you to volunteer?
Everyone was stuck at home during the pandemic. This was an opportunity to be an active participant in the fight. In general, giving comes out of gratitude and abundance. If you want to live an abundant life, you have to be willing to put it out there and give to others without any real expectation of return.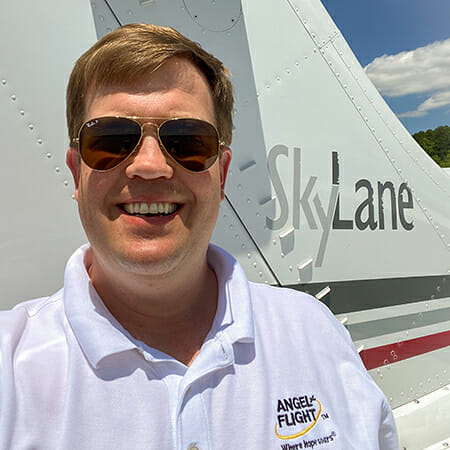 Describe your volunteerism with Angel Flight Soars.
As a volunteer pilot with Angel Flight Soars, they'd drop the coolers of PCR COVID-19 tests off at an airport and I'd put them in the airplane and fly them to the designated pickup. Volunteers like me were able to get tests to destinations in two hours and help testing turnaround time for smaller cities.
Share one personal story with me from your volunteerism.
For me, it's kind of boring, you put a cooler in an aircraft and you go, but there were hundreds of pilots around the country doing this, and that really changed the game for people who were desperate for information in a time of great uncertainty when tests were really hard to get. I posted about my volunteerism on social media, and it just really blew up. We were able to make a meaningful impact through service.
Why do you think it's important for others to give back?
I liken it to money. There are three things you can do with money: spend it, save it or give it. If you get out of balance with any one of those things, it causes you to be anxious. I've been blessed in a lot of ways. The opportunity to do things for others and to give back is how I show that I'm grateful for all the great things I get to experience in life.
What have you learned through your experiences as a volunteer?
The real hero of this whole thing is Angel Flight Soars and how they were able to really quickly organize the resources they have and bring in new pilots like me. I'd never flown passengers before because our plane is relatively small and you can't go far, but once they said we could put the cooler in the back of the plane, heck ya, I can do that. It gave me an opportunity to combine my passion with volunteerism and feel like I was part of the fight.
In one word, what does volunteering mean to you?
Gratitude.
How can readers help?
Please visit the Angel Flight Soars website for more information about how you can help.
Do you want to make a difference in your community like Ivy Cadle? Find local volunteer opportunities.
Share this post