Volunteering with Red Cross to Bring New Beginnings From Disasters
Meet Daily Point of Light Award honoree Roycelyn Lewis. Read her story and nominate an outstanding volunteer or family as a Daily Point of Light.
When severe arthritis ended her nursing career eight years ago, Roycelyn Lewis didn't take a seat. A faith-based volunteer committed to serving since 1993, Roycelyn saw her forced retirement as an opportunity – to do more, give more and be an inspiration in her community. She uses her own resources and spends upwards of 3500 hours a year making a difference.
What inspires you to volunteer?
As much as I loved being a nurse, volunteering gives me more satisfaction than anything else. Although I can't perform my duties as a nurse because of degenerative bone disease, I can still help the homeless, feed the hungry and work with kids in need. The need is great in my city.
Describe your volunteer role with the Red Cross.
I help set up mobile feeding stations, serve the food, and hand out sandwiches and meals on the road. Sometimes I am an ambassador at a disaster site, trying to help people figure things out. I also prepare and hand out bags of toiletries and clothing supplies. Sometimes the items are donated, but usually I pay for them myself.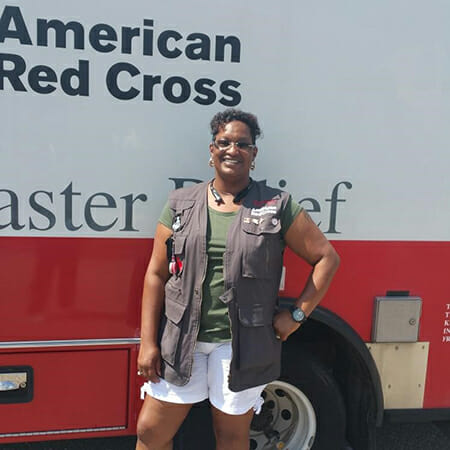 What's been the most rewarding part of your work?
I believe I'm a servant and a caretaker, which is why I became a nurse. I feel most rewarded when I see the smiles and get the hugs from the people helping. As a Red Cross ambassador, it's my job to make people feel comfortable even when they're at their lowest. To help them feel that today in this moment is where we are, but tomorrow starts all over as the first day of a new beginning. We've been through Katrina and we understand. The only moment we have to get it right is right now – that's the way I live myself. Comforting people and giving them strength is so rewarding to me.
What have you learned through your experiences as a volunteer?
I learned how much I love people. I want everybody to be their best person and I want to help and support them. Volunteering is free, it just takes time. I put in a lot of time, but even a few hours a month makes a difference.
Are there any future partnerships, programs, or events that you are excited about?
I get excited about every opportunity – if I'm available, I'll help! It's my hope to create a safe haven space for domestic violence victims. I'm hoping a friend will help me write a grant to make that happen.
Why do you think it's important for others to give back?
That person you're helping could be you. We have so much to be thankful for. Volunteering is the best way to show that appreciation.
What do you want people to learn from your story?
We are all one disaster away from being in a dire situation. A fire, a flood, a hurricane can change your life in an instant. My thing is, ok, something bad has happened. Let's take 15 minutes to feel really sorry for ourselves. Now we have 23 hours and 45 minutes to pick ourselves up – and with help, we can do just that.
Do you want to make a difference in your community like Roycelyn Lewis? Find local volunteer opportunities.
Share this post