Wisconsin Woman Combats Homelessness in Community Through Gospel of Matthew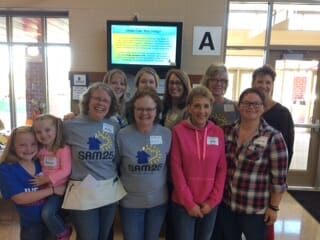 As a pharmacist by trade, Maureen Culhane ensures wellness for those seeking medical help. When not at work, Maureen is focused on the wellness of her community, specifically the homeless.
According to the Shawano, Wisconsin resident, watching a movie describing the growing issue of poverty in the U.S. compelled her to take action and examine what kind of help her own community needed. When Maureen realized her community would benefit from an emergency shelter, she started SAM25 in 2014 alongside several individuals from area churches and businesses. Its' mission is designed to support the homeless in their community and help improve the circumstances of the individuals and families.
Dedicated to helping those affected by poverty, Maureen is making a difference in her community and is today's Daily Point of Light award honoree. Points of Light spoke to Maureen to learn more about her work with SAM25.
What inspires you to volunteer?
I feel like every one of us needs help at one time in our lives in different ways. We're just called to help each other in those tough times. Personally, we had a child who struggled with cancer and the community surrounded us with help and support. We learned a lot from that.
What does SAM25 stand for?
SAM25 stands for "Shawano Area Matthew 25." There is a quote from Matthew's gospel that says, "Truly I tell you, whatever you did for one of the least of these brothers and sisters of mine, you did for me." Our mission to help the poor and homeless living in our community is in the spirit of this verse.
Describe your volunteer role with SAM25.
I currently serve as the president of the board. I oversee the operation of the shelter and help the organization run day-to-day. In addition to volunteering at the shelter, I do a lot of outreach in the community to raise awareness, recruit volunteers and fundraise. Our community has been very generous, people make meals for dinner donations to help keep us afloat.
Homelessness in more rural areas is different than in cities. Explain.
The homeless are very visible in big cities because they're actually out on the streets. It's a little different in a rural setting. It's easy to go about your day and not realize people are struggling. That's why setting up this shelter was so critical. Our guests are just like you and me, they're just going through some difficult times.
Explain how you worked through challenges in launching SAM25.
We tried to do our homework, and we shared the hard statistics with our community about people who seek help and are actually turned away by other shelters because they don't qualify for one reason or another. To the folks who said that they didn't want or need a shelter, we promoted education and shared information about safe shelters. Overall, people have been really supportive and very generous with their time.
What's your personal motto?
One of my heroines is Blessed Mother Teresa who is now Saint Teresa. She would always say, "We cannot do great things, but we can do small things with great love." That sentiment certainly been demonstrated by what everyone in our community has done to make SAM25 work.
What's been the most rewarding part of your work?
Over half of our guests from the past year have found permanent or temporary housing. It's been amazing for me to watch what each person does within our organization to help support our guests. Everybody does a little piece of the puzzle and it all fits together and works well
What do you want to do for the future?
We have a mentoring program to help folks with whatever they're struggling with, even if that's filling out job or housing applications online. We want to get the homeless out of the cold and help them get back on track so that they can be independent. In the future, we're hoping to open a community clinic to provide affordable healthcare for all those who are in need.
Why do you think it's important for others to give back?
That's what we're called to do. It lifts my spirits to be able to lift someone else up and give someone else hope.
What do you want people to learn from your story?
There's a big stigma still attached to homelessness. They've hit a rough spot in their lives, and just need a little encouragement. Homelessness does not discriminate; it could be me and it could be any of us. We could be an illness or a job loss away from losing everything. Everybody is an individual and they're all valuable, everybody deserves a break.
Do you want to make a difference in your community like Maureen Culhane? Visit All For Good for local volunteer opportunities.
Post written by Marlena Militana.
Share this post