With a Passion for History and Children, Education Docent Gives 800 Hours to the George Bush Presidential Library and Museum
Meet Daily Point of Light Award honoree Susan Quiring. Read her story and nominate an outstanding volunteer or family as a Daily Point of Light.  
Susan Quiring has dedicated more than 20 years to the George Bush Presidential Library and Museum in College Station, Texas. Working over 800 hours at the library, Susan educates hundreds of student groups on the histories of the U.S. presidents and the White House.  
As a history lover and caregiver of children, Susan's memories at the library and museum are endless. She taught herself the ins and outs of the library's history from the ground up as one of its first volunteers, and has no plans of stopping.
Describe your volunteerism with the
George Bush Presidential Library and Museum.
My volunteering began when I was a 4-H'er and Campfire girl, and later as a 4-H agent.  I served as a counselor for the American Institute of Foreign Studies taking youth on study abroad trips. I've always been interested in history. When the Bush Library came into my life, I was actually at a good point of recovering from an illness and was switching from one job to another. I've always been interested in learning and I love the idea of getting involved in the community — it's important that we all do that.  
So I found the library and I had a lot of respect for George H.W. Bush. It was a combination of getting to learn more about history and current events because I get to prepare and lead educational tours, and I got to do something that involves the Bushes because I loved them. Plus, I helped our community and its children; one of my core values is working with children. 
I went to the library's grand opening, which was in 1997 I believe, and my first tour was the next day. I've been volunteering ever since as an education docent. Recently I've been starting as a visitor docent, but I love the education part because I get to educate children and help them learn about our democracy. I think it's important for all of us to learn about our past presidents and their character, values and what guided their decision making. And I love getting to watch children absorb that. They really can tell when I'm listening and treating them with respect while welcoming their questions. I want to keep helping them understand honesty, integrity, humbleness and a servant's heart, which were all traits in George H.W. Bush.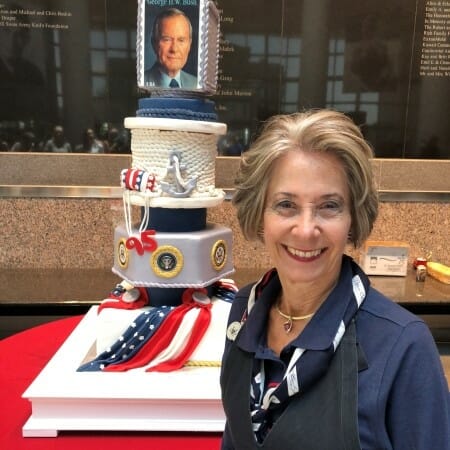 When I would go over to the White House and dinners, I would learn bits of nuggets of setting a table, holding silverware and other common courtesies of the table. So now I'm also an etiquette coach, which is another avenue I try to help kids learn confidence and social and people skills.  
What programs and special events do you help lead?
Besides being an education and visitor docent, I've also helped during our White House miniature special exhibit. I became the in-house resident expert on that exhibit and received extra training from its designer. I would be called to give special tours throughout that exhibit's time and I loved learning all of the trivia and information about the various presidents living in the White House and the house's design. The whole exhibit was done with so much precision.  
Other than that, I've helped with our summer movie nights on the lawn and helped with a few Easter egg events. I've assisted with two or three of our art contests with children, and served as a VIP docent for special group tours that come into town. Since I'm also working full time as a ballroom and country western dance instructor and etiquette coach, I don't have quite as much time to volunteer as I would like to, but I still manage to spend a good amount of time at the library.  
Do you have a favorite memory at the library and museum? 
Other than the White House miniature exhibit, it would probably be playing horseshoes with President Bush and his grandson George. They formed teams and the docents were all on a team to play against the two of them. And guess who always won? The President and his grandson. They had a special horseshoe pit. I'll always remember playing with them and having a great time. First Lady Barbara Bush was also there sitting along the wall, just visiting with people. I sat beside her with so much admiration.  
I also love every single tour I give. During my first year, there was no one to train us since we were the first ones to be on the team. We basically just had stacks of papers and books that we read before we could give our first tour. I'm so grateful for that because it gave me such a wonderful background of everything involving the museum and the Bushes.  
What inspires you to volunteer?
For me, it's a combination of my interest in history and current events and longing to help my community. It's a win-win. With the Bush Presidential Library and Museum right in my backyard, it's been extremely worthwhile that I can give my time through tours. Investing in the children also keeps me inspired. They need good role models, especially today. They need to learn that we can't keep moving forward if we don't know what happened in the past. When we understand the true formation of this country and the core values of our founding fathers, we learn the critical knowledge of our uniqueness.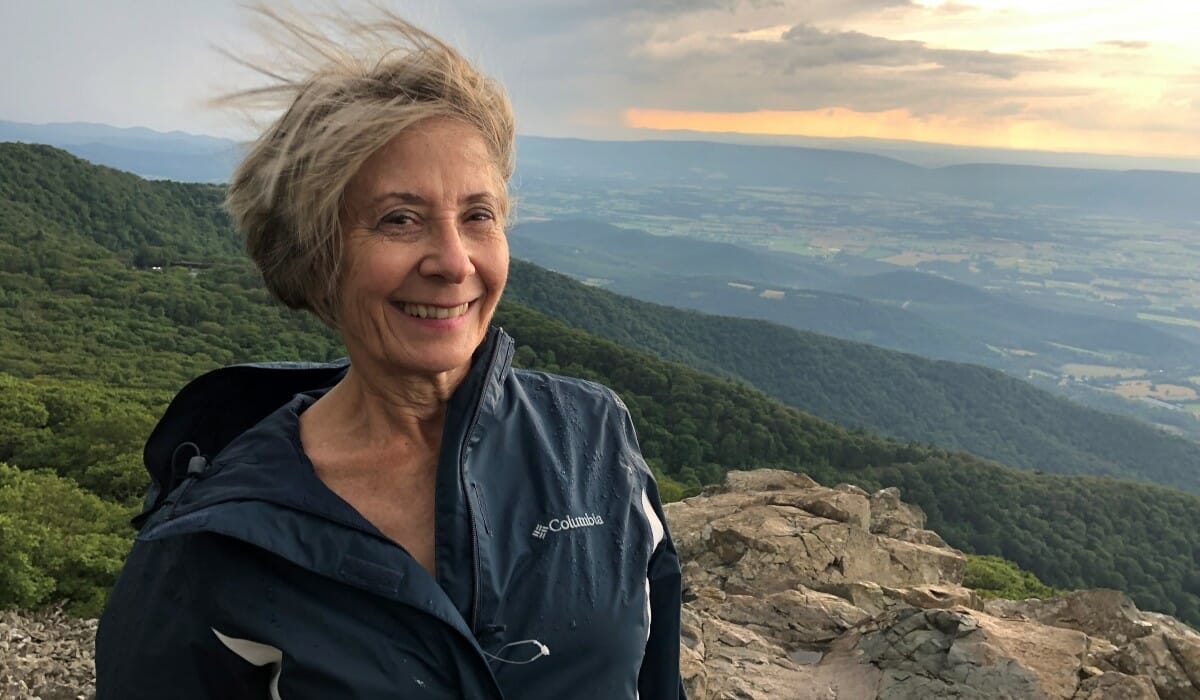 What have you learned through your experience as a volunteer?
I feel like I've become a better citizen because I keep up with current events and I'm more active in the community. When I was younger, I wasn't very interested in history or current events, but that's changed. Now I've learned more about our presidents too. Learning things in a fun way makes it stick, and that's what I'm trying to teach kids.  
Why is it important for others to get involved? 
It's important for people to volunteer so that they can help change people's lives for the better  and really help children. Children are always looking for a role model, and I think that's important for adults to help fill those roles. It's also a way to be a part of something bigger than ourselves and improve the community as a whole.  
Are there any partnerships, programs or events that you are excited about?
There are always monthly programs and events that have someone reenacting one of the presidents, and we usually have someone representing President Washington and I think sometimes we have a Ben Franklin too. The 25th year of the Bush Library is also coming up in November, where all of the docents will be recognized. There are three or four of us who have been here since the beginning.  
Do you want to make a difference in your community like Susan? Find local volunteer opportunities. 
Share this post