Founding Volunteer Still Honoring U.S. History at The George H.W. Bush Museum and Library
Meet Daily Point of Light Award honoree Ann Hays. Read her story and nominate an outstanding volunteer or family as a Daily Point of Light.  
A critical part of preserving United States history is honoring the leaders who helped shape it. And for Ann Hays of College Station, Texas, a deep respect for our nation's history and its Texas-born Presidents is what keeps her volunteering at The George H.W. Bush Presidential Library and Museum. In addition to her weekly shift, Ann has also helped staff the Annual Easter Celebration, The I Love America 4th of July Celebration, Night at the Museum Halloween event, Bush Birthday Celebration, Holidays in the Rotunda and numerous receptions. She has additionally helped in the education department and served as part of the volunteer media team. 
Ann Hays began volunteering at the museum in September of 1997, before the museum opened to the public, and today is one of just six original volunteers who still serve there. Since she started, she has dedicated over 7,800 hours to the museum in the form of volunteering. You can find Ann volunteering every Monday afternoon, eagerly welcoming visitors and guiding them through history. Read more about Ann's journey and what inspires her most. 
Describe your volunteer role with The George H.W. Bush Presidential
Library and Museum.
I'm a visitor services docent. So I greet visitors, introduce the orientation film, give out maps and take pictures in the replica Oval Office. Our museum was the very first to allow people to sit in the President's chair in the Oval Office!  
To be a docent originally, we had a lot of training. We had to read eight books. We'd have a meeting and have to step over boards when they were still building the museum. Most of us were college graduates but we didn't know if we were smart enough to do this job! We started out with 266 volunteers but now six of us originals are still here.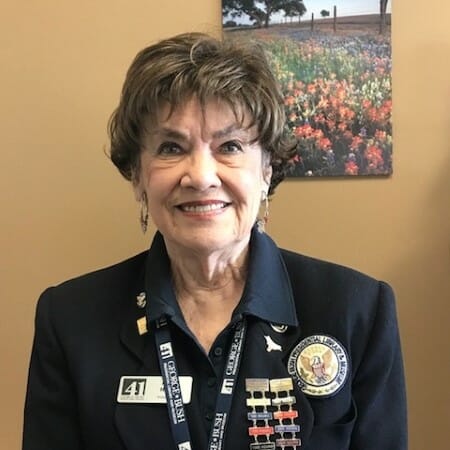 Why is remembering history so important?
I think it's very important because it teaches you about our country and how it started. It's kind of sad that people want to get rid of history. If there's something you didn't like about what happened in the past, if you don't know history, you won't know how to avoid not repeating that very same thing in the future.
How many visitors do you get at the museum each year?
We get around 150,000 from all over the world. 
Do you have any fun stories to share from your time volunteering?
When [George H.W. Bush's] granddaughter, Jenna Bush Hagar, who went to University of Texas, they'd always call me to come in and entertain them, because I went to U.T. too. One day, Jenna came from Austin with her boyfriend, who's now her husband. She was wearing ripped jeans, and her grandmother, First Lady Barbara Bush, just about had a fit! The girls liked to get under their grandmother's skin once in a while. 
What inspires you to volunteer?
I have been a volunteer since before we opened. When I was interviewed to be a volunteer, and I wanted to be a visitors service volunteer because this is the one place in our area where visitors from all over the world come. I'm a sixth-generation Texan, and I want everyone to know what a real Texan is all about. We're loving, kind, friendly people who put others before ourselves. We promote love, and not hate. That's why I'm here.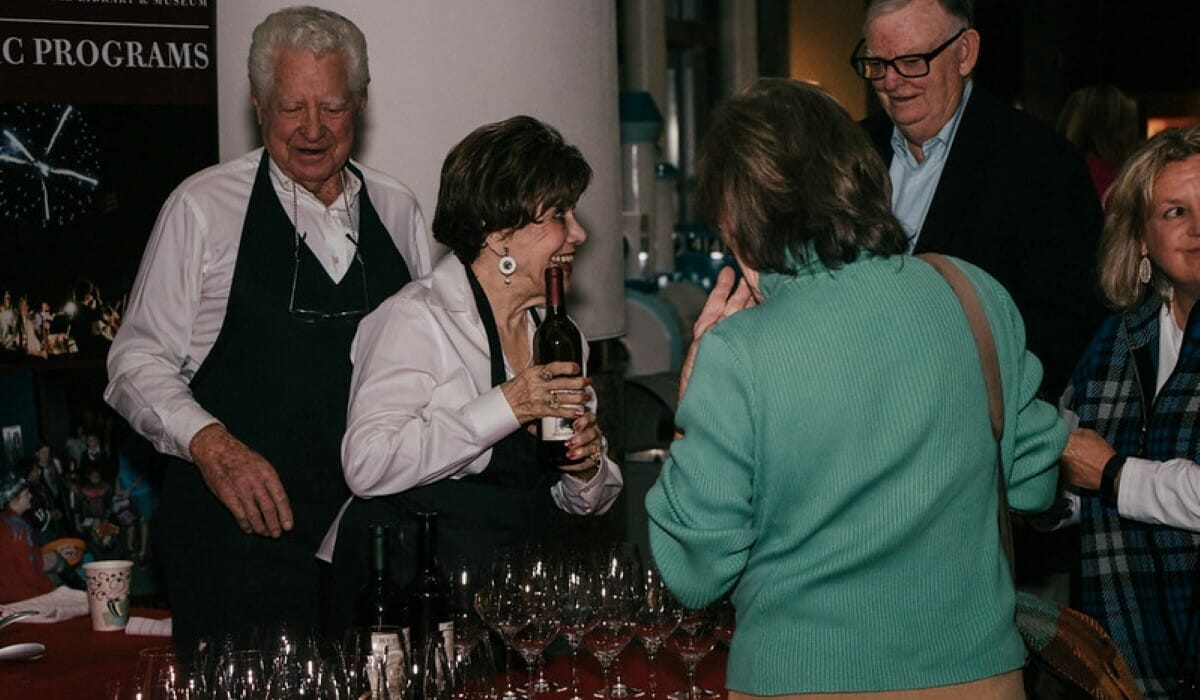 Can you share a memorable moment from your work?
Actually, when George H.W. Bush passed away, CBS News National correspondent Chip Reid came down from New York and interviewed me. I live right by the railroad track, and I invited 100 people to come to my house so they could see the coffin as it passed on the train.  
So Chip kept asking me questions as we sat out in the yard with a big Texas flag flying in the air. And he'd say, "Oh you did a great job with that answer, but a plane flew over and we need to do that over." He'd ask me another and he'd say, "Hold that thought. A helicopter just flew over and we're going to have to do that one over." It's just amazing how they can edit stuff and make us look good! 
Why do you think it's important for others to get involved with causes they care about? 
For one thing, I've found that when you volunteer or do something for someone else, it just makes you feel good. There are people who have never tried that. I think if you would try helping someone else just one time and see how it feels, you'd keep doing it. 
Are there any other touching moments from your time at the museum?
I had an interesting thing happen a while back. During the height of COVID, we had a group come with students from China getting their master's degrees at U.T. One said he felt such love from me, he brought his girlfriend to meet me. I invited the young man to my house to join us for Thanksgiving. I showed him my oil well and my cows – like a true Texan! We took his picture, came in the house and he said his grandmother had read him the Bible and taught him about Jesus' love. Now he's in my Sunday School class! Like I said, we spread love and not hate. 
Are there any future partnerships, programs or events you are excited about?
We have this wonderful director who's been with the archives for 30 years, and he's retiring so we're celebrating him. Now can you believe that he decided, after 30 years, that during retirement, he's going to become a volunteer docent? I tell him he's going to have to go through training. 
Do you want to make a difference in your community like Ann? Find local volunteer opportunities.  
Share this post