Young Girl Recognizes and Advocates for the Military Community
Meet Daily Point of Light Award honoree Sawyer Hendrickson. Read her story and nominate an outstanding volunteer or family as a Daily Point of Light.
Sawyer Hendrickson, 13, is a busy girl. In between filling care packages for thousands of veterans and speaking engagements for the nonprofit she founded at age six, it's already impressive she finds the time for her homework, though she always does. But she also makes room in her packed schedule for competitive dance, recreational tennis and cheerleading. In her words, a perfect day is "a day when we get everything done."  
Miss Sawyer's Kids With a Cause, her nonprofit, is dedicated to honoring veterans, active duty military members and fallen soldiers. Sawyer has been an advocate for the military community for over half her life, and continues to bring attention to their service and issues they face upon returning home.  
We spoke with Sawyer and her mom, Heather, as they prepare for their Christmas Stocking Project. 
What inspires you to volunteer? 
Our veterans and our military members were and are out there fighting for what they believe in, and it's important to recognize them and to show our support. 
Describe your volunteer role with Miss Sawyer's Kids With a Cause.
Sawyer: It all started when I was six and a half when my older brother decided to join the Marine Corps. We started sending care packages to him and his platoon. Once they all moved to different stations, we began to make them for lots of other military members, too. 
We ship about 25,000 care packages a year to different military bases around the world. The Christmas Stocking Project, or Sawyer's Stockings, is the biggest project of the year. We send about 10,000 stockings every Christmas season. We also regularly visit Washington, D.C. and hand them out to the old guard that works at the Tomb of the Unknown Soldier and different bases in the area.  
We have lots of volunteers, not just from our community but from around the country. We have several schools having candy drives for the Stocking Project right now and people at senior centers and beyond painting and stuffing stockings. 
Heather: A lot of recipients send back pictures, videos or emails. When they take the time to do that or to tell their family about it, word literally spreads like wildfire in the military community.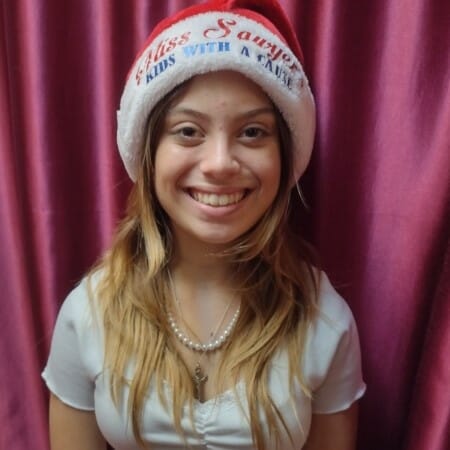 What is the Roses to Remember Project?
Sawyer: We lay 2,100 gold star roses on the headstones at the Tomb of the Unknown Soldier in Arlington National Cemetery for my birthday every year. And lots of people request that we put them on certain headstones, too.  
Heather: Anyone from around the world with a loved one buried at Arlington can request that a rose be placed through our website or email. Several children who live on nearby military bases help find specific graves. They place a rose and take a photo that is sent to the family. There are a lot of people who can't travel anymore or who can't afford the time or money to get there. Even during COVID, when the cemetery was closed to everyone, they let her go in. We were the only ones there.  
You attend many veteran-related events each year. What do you do there?
We go to 150+ veterans-based events a year where I do some public speaking, talking about my project and what it means to me and some other things related to the organization. We volunteer at veterans' events and speak about the POWs, MIAs and other veterans' issues. 
What's been the most rewarding part of your work? 
A lot of times we get videos or pictures of those who we sent stockings to with the stockings. You can see the joy and happiness that stocking or care package brought them. A lot of times they don't get to go home for Christmas or other holidays, and some of them don't have family or don't get any mail. It's just special to see the effect that our project has on people.  
What have you learned through your experiences as a volunteer? 
It's lots of hard work and it takes a lot of time. There's a lot of organization with it as well, with making sure that everything's right. All the numbers are right. You're looking at shipping costs for the packages and making sure that volunteers are contributing to the project. 
What are your plans for the future of the organization? 
Sawyer: Right now, our plan is to just keep growing and keep making sure that our projects are being noticed and that they get done. 
Heather: We're in a great spot because of the willingness of people to volunteer, and we're becoming more efficient as each year goes by. There are schools here that have even created a service class for her nonprofit that give class credit to do this stuff. And there's a waiting list to get in. 
Why do you think it's important for others to get involved?  
Like I said earlier, it's good to help out those who are really fighting for what they believe in and who put their lives on the line to ensure we keep our freedoms and rights. It's good to show them that they're recognized and that someone cares about them. It's really just about giving back to that community of people. 
Do you want to make a difference in your community like Sawyer? Find local volunteer opportunities. 
Share this post
---