With Donated Laundry Supplies and Quarters, 12-Year-Old Lightens the Load for Families in Need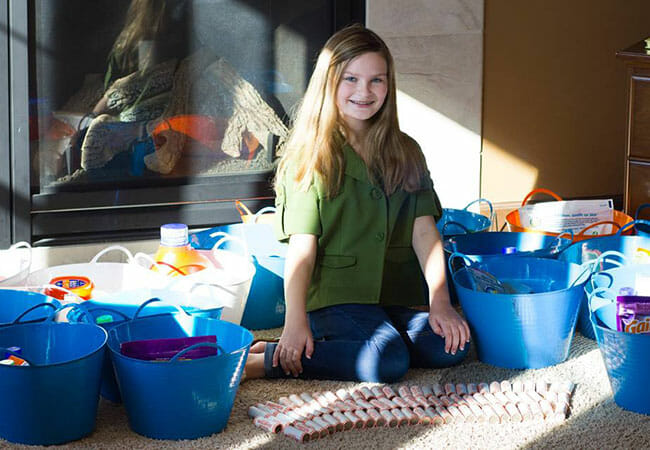 Maggie Leach is today's Daily Point of Light Award honoree, and one of the winners of the 2016 Make A Difference Day Awards. Each year, TEGNA recognizes 14 outstanding leaders of Make A Difference Day projects, awarding $140,000 in grants that are donated to the charities related to the winning projects. Learn more about Make A Difference Day and register a 2017 project at www.makeadifferenceday.com.
When she was 8 years old, Maggie Leach lived with her family in a hotel for six weeks as they waited for their new home to be built. While washing clothes with her family at the local laundromat, Maggie met several homeless families who could not afford to do their laundry more than once a month – and who sometimes had to make the choice between clean clothes or food. She wanted to do something to help.
Maggie launched Operation Share the Load as a Make A Difference Day project in 2012, collecting rolls of quarters and laundry supplies to be donated to families in need. And on Make A Difference Day 2016, she brought in her largest collection yet. Maggie, now 12, collected 81 rolls of quarters, a total of $810, and 21 baskets of laundry supplies – enough to lighten the load of dozens of families served by nearby Lewis House, which shelters women and families fleeing domestic violence.
In recognition of her efforts on Make A Difference Day, Maggie was awarded a $10,000 grant that she donated to 360 Communities – a little extra money to do a lot more good for the nearly 18,000 individuals served by the nonprofit's community programs. We asked Maggie to tell us more about last year's project and what's next for Operation Share the Load.
What inspired you to start Operation Share the Load?
When my family decided to build a new home in 2012, we sold our old home about six weeks before we could move into the new one. We lived at an Extended Stay hotel, and had to wash our clothes at the laundromat. We met many families who worked full time and lived in their cars, and who could only afford to wash their clothing once a month. Some families could only wash some of their clothing, because they had to choose between clean clothes or food.
Tell us a little more about your Make A Difference Day 2016 project.
I started Operation Share the Load in 2012 as a Make A Difference Day project. Since then it has grown and by 2016 I was able to raise more than $800 in rolls of quarters and hundreds more dollars in laundry supplies. Each Make A Difference Day, I take my donations to a charity that helps families in need. Last year I donated to 360 Communities in Minnesota. Now that my family has moved to Iowa, I have already met my next partner and will be donating on Make A Difference Day to IMPACT! In Marion County.
What was the most rewarding part of the experience? A favorite memory?
My favorite memory was my first year doing my program. That year we went to the laundromat and surprised people with free laundry services. One lady asked if she was on "Candid Camera" and when I told her no, she started to cry and said it was the nicest thing anyone had ever done for her.
Why do you think it's important for others to get involved and make a difference in their community?
I think it's important because helping others brings communities together. You understand each other more, and you make new friends along the way. You also may never know if you will be the one who needs help someday.
As a 2016 Make A Difference Day Award Winner, you were awarded a $10,000 grant to donate to a charity connected to your project. What will that money go toward?
I donated my grant to 360 Communities because I have partnered with them since 2013. They are very supportive of the community with food, shelter, parenting classes and two shelters for women and children escaping domestic violence. My donations always went to these homes and it felt good to help the families.
What do you want people to learn from your story?
I want people to learn that just because you are a kid – I was 8 when I started my program – that you can still make a difference in the world. With the help of your family, friends, and a community that believes in you, you can make big things happen.
What are your plans for Make A Difference Day 2017?
I am working with a program in Iowa to donate my laundry supplies and quarter collections to on Make A Difference Day. I plan to have my new school help me collect laundry supplies, and my annual Go Fund Me page is up and running. My mom and I have also contacted the Tide Loads of Hope program to see if we can do a separate donation to help families impacted by all of the recent hurricanes. This collection may take place after Make A Difference Day 2017, as power needs to be restored in order for washers and dryers to run.
Volunteers across the nation will come together again on Saturday, Oct. 28, to improve their communities for Make A Difference Day. Project organizers are encouraged to register at www.makeadifferenceday.com to be eligible to win a $10,000 grant to donate to a charity related to their Make A Difference Day project.
Share this post