Woman Fights Human Trafficking through Fashion with "Dressember"
Your go-to black dress. Every woman has the staple hanging in her closet, ready for all seasons and occasions, but what makes RuthAnn Deveney's special is the purpose it serves when she wears it: fighting human trafficking.
Fighting an epidemic that many may be surprised to know is taking place in their own communities, the 36-year-old Kennett Square, Pennsylvania resident wears a dress each day for the 31 days of December through Dressember, which is dedicated to raising funds and awareness about global human trafficking. The dress (or tie for men) serves as a conversation starter to fight back against modern slavery, efforts that have organization-wide resulted in millions of dollars of funding vital for anti-trafficking work in America and around the world.
Personally raising over $27,000 since 2014, RuthAnn is making a difference with fashion, and is today's Daily Point of Light award honoree. Points of Light spoke to RuthAnn to learn more about her volunteerism with Dressember.
What inspires you to volunteer?
This is a cause that I really believe in, and I believe in Dressember's ability to effectively confront the problem. I love seeing that we can all take action, even against an overwhelmingly sad problem.
Describe your role with Dressember:
I volunteer more than 40 hours during the month of December, as we are actively campaigning by wearing dresses or ties each day to raise awareness about human trafficking. In addition to dressing up, I have a fundraising campaign that includes team members from all around the country, and some international advocates as well. This fundraising is a part of strategic anti-trafficking grants that provide Dressember partners with the funds to move the needle toward change. Outside of my direct advocacy, I lead a Dressember Book Club to engage other advocates within my community year-round as we wrestle with the topic of modern slavery and how to fight it.
You mentioned ties. How can men help fight human trafficking?
In the past few years, Dressember has expanded. Men can wear a tie each day, or we encourage them to be dressy in other ways, by wearing a suit jacket or suspenders. As Dressember equips a community of advocates to fight for the dignity of all people, they are working towards the protection and freedom of millions.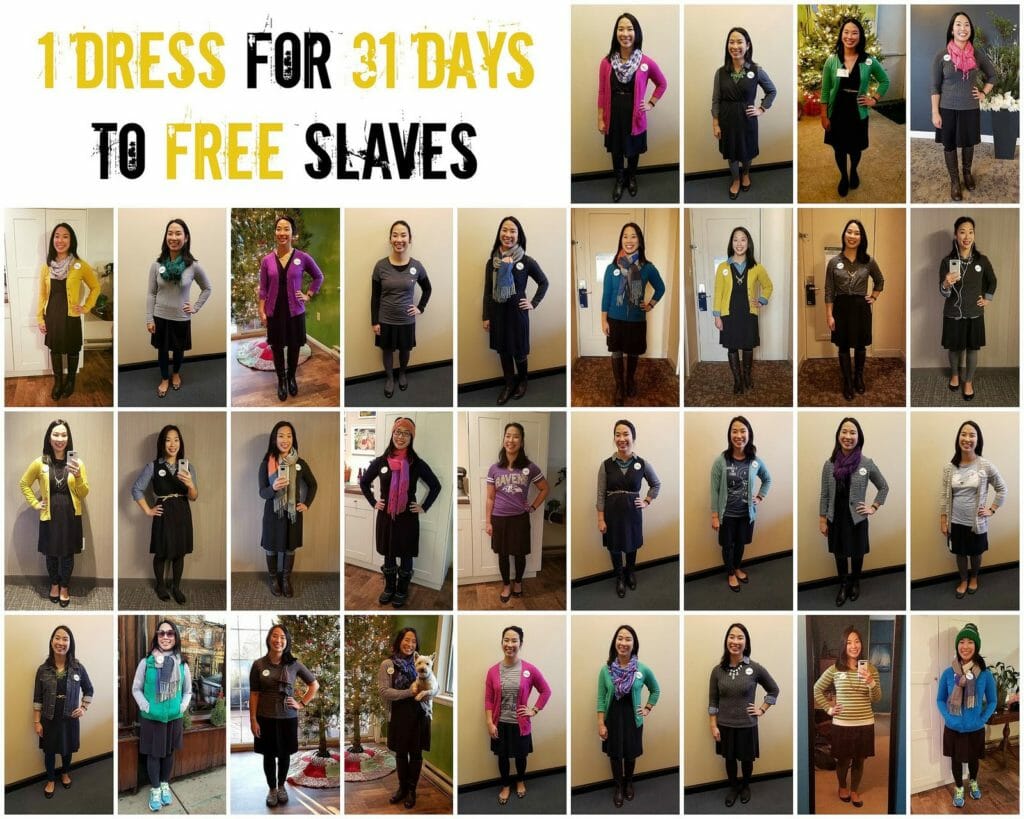 Tell me about this black dress that you wore each day throughout December.
I wore the same black dress every day for my first month volunteering for Dressember. It's a solid, sleeveless black dress, and since it was winter, I'd layer the dress in different ways with different cardigans or leggings. When people see me wearing the dress, they recognize it – it has this strange notoriety, because it sparks awareness. People remember that this dress has made an impact on people and that I am wearing the dress to fight human trafficking.
Explain why this crisis is so personal to you.
The saddest aspect of human trafficking is how women and children are disproportionately victimized. They are among the millions who are enslaved, and that really hits home for me. Here are women who don't have education, they have debt that has been unfairly imposed, and they're trapped in these situations. I am fighting a culture that makes women disposable.
What have you learned through your experiences as a volunteer?
I will stretch beyond my comfort zone for a cause I believe in. Last year was my 5th year as a volunteer for Dressember, and I wore a button each day that said, "ask me about my dress". Sure enough, a stranger approached me and asked about my dress. Having conversations with strangers is much different than explaining the cause to a co-worker or friend, but I am I willing to have these conversations and inform people because I so believe in the cause.
What do you want people to learn from your story?
I want to encourage people to take small actions for the causes they believe in. Even though their small actions won't solve the problem wholly, they'll still be making a difference.
How can readers help?
Please check Dressember's website for more information about how you can give back: https://www.dressember.org/. Additionally, please visit my 2018 team campaign page: https://dressember-2018.funraise.org/team/25-boats-for-freedom. I also share updates about my advocacy on my Instagram page: https://www.instagram.com/definitelyra/.
Do you want to make a difference in your community like RuthAnn Deveney? Click here for local volunteer opportunities.
Share this post