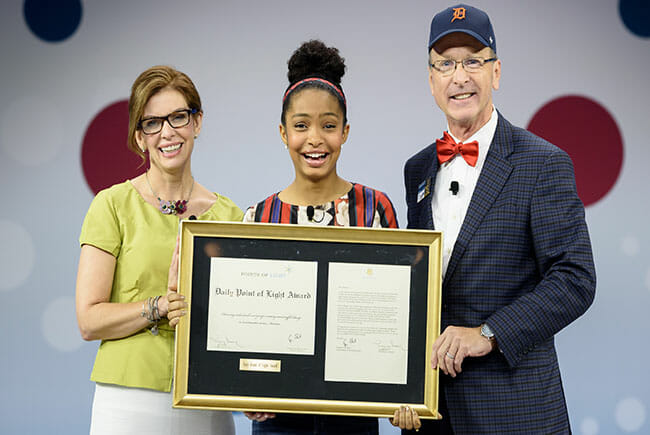 For some celebrities, actuating social change is just another responsibility that comes with the trade. For 16-year-old Yara Shahidi, rising star of the hit ABC TV sitcom, "Black-ish," engaging in social change is simply part of her DNA.
The bubbly Minneapolis native grew up in a family of humanitarians, including an aunt in social work and a grandfather known for his civil rights activism. As a tradition, every Christmas Yara's family gives to a foundation, rather than each other. At 14, instead of beaching it in Jamaica, the ambitious teen and her mom, actress/model Keri Shahidi, used their time on the island to work with Integrative Clinics International, an organization that provides healthcare services in underserved communities.
With this kind of empathic upbringing, it's no wonder that Shahidi is using her platform for good. From donating her time to film public service announcements, to speaking out against bullying in schools, Shahidi's high profile is turning her into an influencer to be reckoned with. Unlike her character Zoey, who veers to the side of entitlement in the comedy about a prosperous black family wrestling with racial issues, Shahidi's feet are firmly on the ground.
Her philanthropic passions are plenty. Shahidi, whose "Black-ish" costars include Tracee Ellis Ross, Anthony Anderson and Laurence Fishburne, is a vocal spokesperson for Saving Our Daughters, a nonprofit that encourages dialogue between girls ages 9-16 about anti-bullying, self-esteem, violence and hate crimes. Not long ago, she partnered with the organization's Saving Our Cinderellas program, acting as a "Celebrity Godparent," and taking part in a performance arts mentoring class.
"Yara feels strongly that there is no cause that we can't affect," according to publicist Erica Tucker. "She is always encouraging other young people to get involved and become the voice of change, no matter how big or how small that change might be."
Filming a television series and keeping up a 4.6 GPA is more than a full-time job, but Shahidi, whose first name, in Persian, means "Someone who is close to your heart," doesn't let a busy schedule slow her down. A few of her projects include recording a public service announcement for DoSomething.org to encourage young women to go into STEM fields (Science, Technology, Engineering and Mathematics); her mentoring work, which includes creating vision boards with both the Boys and Girls Club and Young Women's Leadership; and attending the annual (Em)Power Breakfast alongside big names like Estee Lauder, president & CEO for Fabrizo Freda, Kimberly Hatchett, executive director for Morgan Stanley, and Sherrie Westin, executive vice president of global impact and philanthropy for Sesame Workshop.
"Life as a teenager can be down right chaotic," the actress told the audience at the New York luncheon. "We must also realize that it is up to us whether these years will feel like a melancholy struggle or an opportunity for growth or experiences of a lifetime."
Shahidi's star power, which earned her the NAACP Image Award, is at the heart of Yara's Club, which she started last fall. Working with seven New York City schools, Shahidi initiates monthly digital meet-ups with young, socially conscious teens, leading discussions of empowerment and social good.
"Her goal is to inspire other young women to make a difference and get involved. In their own communities," said Tucker. "Yara's true essence is giving back and being kind. I'd say her over-arching motivation is to translate that to her fans. To inspire them not to be afraid, to get started now, not to wait. Right now is the time for change –Yara believes with her whole heart and soul that it's exciting to be involved in that process."
Share this post