Young Woman Pioneers Menstrual Equity in North Carolina Schools
Meet Daily Point of Light Award honoree Rose Rosaleen. Read her story, and nominate an outstanding volunteer or family as a Daily Point of Light.
Rose Rosaleen's transformative journey began with a personal challenge: a high school incident due to lack of menstrual products. This spurred the creation of her nonprofit, Period Project NC, dedicated to installing free menstrual product dispensers in North Carolina's public schools.
Under Rose's leadership, the initiative quickly grew, with more than 120 ambassadors and installations in multiple schools. Beyond state lines, Period Project NC has also made international strides by providing products to schools in Bangladesh.
Rose's tireless efforts have significantly heightened menstrual product accessibility, reaching more than 8,000 students in more than 80 bathrooms and amassing funds exceeding $10,000 to combat period poverty. Her initiative extends into the realm of education, bringing menstrual health resources to young learners and actively engaging in policy advocacy to support legislative change for menstrual equity. This comprehensive approach has not only provided immediate relief but has also paved the way for long-term systemic change.
Read on to learn more about Rose's journey and why she's passionate about this cause.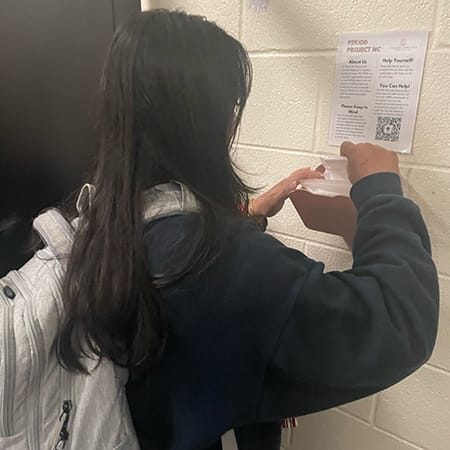 Tell us about your volunteer role with Period Project NC.
I started Period Project NC in my sophomore year of high school. That was my first year back in school after COVID, and that year I became really aware of just how much menstrual inequity is a problem. It can be so scary to not be prepared for your period at school. After that year, my friend and I started Period Project NC and we set up dispensers in girls' bathrooms across our state. These dispensers offer menstrual products like pads and liners so girls can grab whatever they need.
Currently, we're in 80 bathrooms across six or seven schools. We're supplying over 10,000 students with products. After we first got dispensers installed at my school, I noticed that every week the dispensers were completely empty, which meant that they were needed and being used. And that was incredibly rewarding.
What inspired you to start this initiative?
My friend and I have both had negative experiences with our periods at school. We thought it was such a problem that many girls are facing but doesn't get a lot of coverage. For such a big problem, it truly has a simple and small solution. We thought having these dispensers would help make girls feel so much more secure.
From there, we registered as a nonprofit. And since this is such a widespread problem, we figured other girls would want to join us. So we started an ambassador program as well, for girls our age – in college or below – can be representatives, advocate for menstrual equity and have dispensers installed in their schools as well.
What are your long-term plans or goals for the organization?
My founding friend and I are going off to college next year, but we do have those 120 ambassadors helping us continue the mission. We will still manage the big picture stuff, but our ambassadors will be continuing to take initiative and managing the day-to-day details.
We're really focused on getting more into rural communities and expanding into other sectors of menstrual equity and women's empowerment. Some things we've been looking into are conducting menstrual education in elementary schools across the state. And then continuing to expand our dispensers into schools on the west coast and east coast of North Carolina and throughout the state.
What's been the most rewarding part of your work?
This is a problem that's been kept really quiet, but this has such a simple solution. Our dispensers have helped girls feel more confident. Period inequity isn't just an experience I've had – other girls have also been there with me. It's rewarding to know they can feel more secure in their education because they have these products available.
What have you learned through your experiences as a volunteer?
I think it's really important to just keep going, even if you hit a hard spot. When we first founded the organization, my school's previous principal didn't want to allow our dispensers into the school. There was a six-month period where we couldn't be active in any schools.
But we stuck to it and regrouped over the summer. And after that, we got a new principal and I'm really glad we kept going and kept pushing. After we worked so hard to get into my school, we were then able to expand into more schools. So it's important to keep pushing for what you're advocating for, even if things don't always initially go your way.
Why is it important for others to get involved with causes they care about?
I think it's important to get involved in any way at all. Otherwise, nothing's going to change. When I was a freshman in high school, I never would have imagined I'd be doing this now and that it would make such a big impact on girls in North Carolina. But I think having those conversations with my friend about how we've had these negative experiences was enough to get us going and make change. It's important to keep pushing for a cause, even if what you're doing doesn't feel like it's making a difference, it is. It's potentially making a huge impact on people.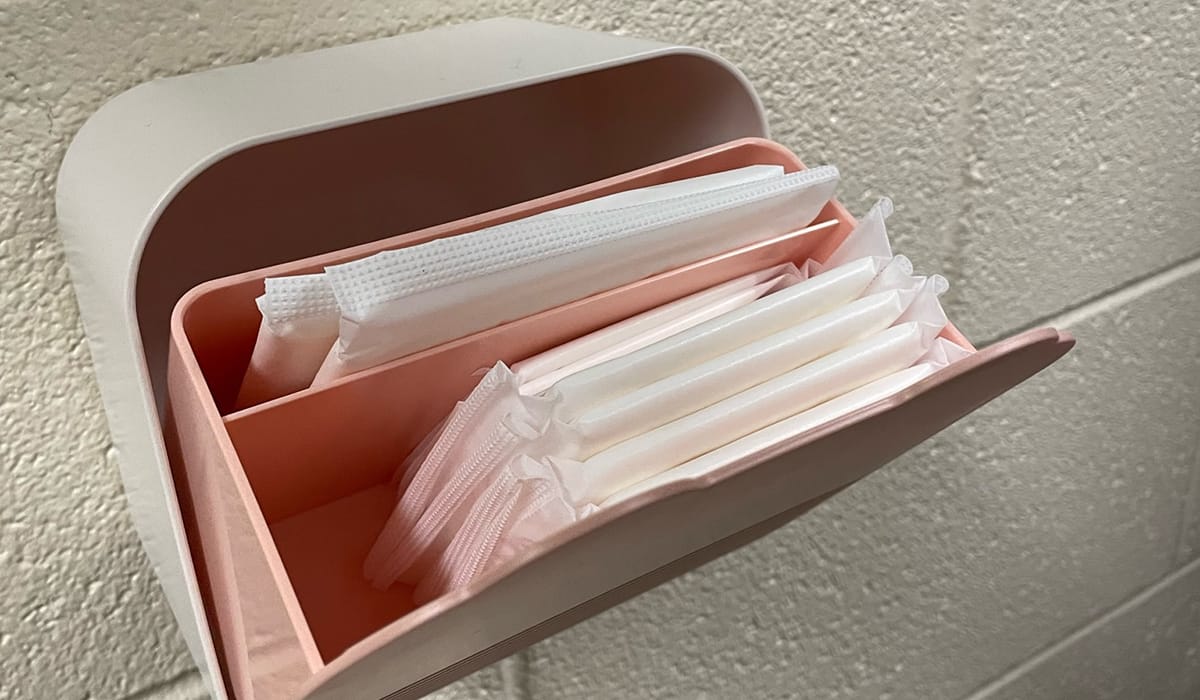 Any advice for people who want to start volunteering?
Remember that it's okay to go slow. At the beginning, we faced a lot of objections, backlash and lack of support. So that first year or so was really slow. But I'm still proud of our progress, making it into two schools. So, if you just wait it out and keep going, you're going to get traction, support and awareness.
Even if things aren't as fast or productive as you'd like, you'll make progress. Our first full year of operation was really hard, and I couldn't commit a lot of my time, but I'm so glad I stuck it out.
What's the ideal scenario you envision for the future of menstrual equity?
For menstrual products to be available to girls of any age in their schools. It should also be more openly talked about. This is a public health issue. In recent years, it's been over-politicized and made a political issue. It's not. It's a health issue. And it should be addressed like that, without taboo. It's just a bodily function, at the heart of it.
Do you want to make a difference in your community like Rose? Find local volunteer opportunities.
Share this post