10 Reasons to Attend the 2016 Conference on Volunteering and Service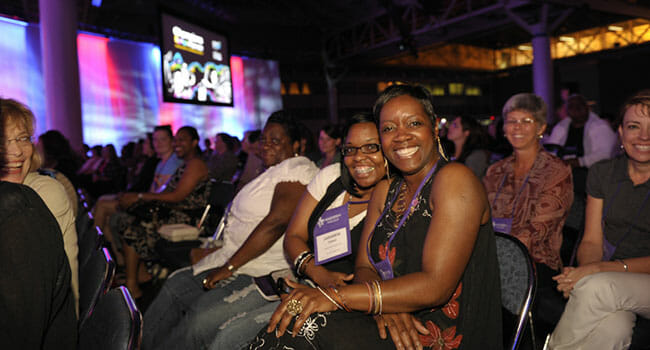 Each year, thousands of people who really care about the future of volunteer service convene at the Points of Light Conference on Volunteering and Service – to learn from, share with and get inspired by one another, and to work together to increase the number of volunteers in the world and the impact of the work they do.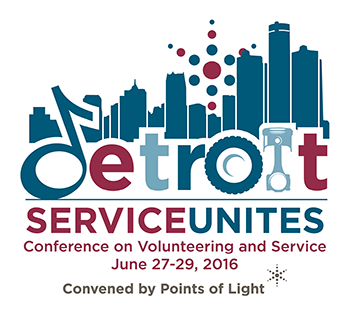 This year's event features 11 diverse learning tracks with more than 100 workshops with nonprofit, corporate and civic leaders. Plenary sessions will include inspiring leaders from the rapidly evolving field of social change, including activists, entertainers, civil rights leaders, academics, entrepreneurs, athletes, elected officials and CEOs from nonprofits and Fortune 500 companies—all joining attendees to celebrate volunteering and service and to highlight the impact of changemakers across the globe.
We hope you'll join us! Here are 10 great reasons why you should register today:
Location, location, location.
This year's event will take place in Detroit, a city that is a shining example of how social innovation, cross-sector collaboration and citizen engagement can drive change. Detroit is a big city on the rise – with culture, history, entertainment, grit and determination, and oh-so-many stories to share.
Unmatched value.
The annual Conference on Volunteering and Service is the largest service-related convening of nonprofit, government, business and civic leaders in the world. You won't find an event that offers this much content, and this many inspiring speakers and changemakers anywhere else.
Progress and impact.
You'll hear from people who are working on some of the world's toughest problems, and learn about their solutions for the future. Whether you are new to your organization or a senior executive with years of experience, you'll discover volunteerism and civic engagement practices that will make a difference in your community and your career.
Get inspired.
At our conference, you'll have the opportunity to engage in industry-leading civic engagement discussions about solutions to the most important challenges you face in your local community. You'll return home equipped with new plans, tips and tools to make your organization faster, leaner and stronger.
Make a difference.
Attendees will have the chance to participate in hands-on service projects designed to make an impact on Detroit. You can engage in peer collaboration and discover lessons learned across the city and in surrounding communities.
Meaningful connections.
This is the largest convening body in the nonprofit sector, bringing together leaders from all over the world to help you learn and grow. And, with plenty of opportunities for networking, you'll reconnect with old friends and make new like-minded, diverse friends and contacts from all over the globe.
Discover new products and services.
Returning this year, with space for 80 exhibiting organizations, the exhibit hall will be an integral part of your interactive learning experience. Highlights include a demonstration stage featuring experts in volunteer service with new products, services and technologies; numerous fun service areas; multiple networking lounges and a social media lounge.
International learning opportunities.
With the global track, participants have the opportunity to learn about social change strategies, innovative approaches and emerging global trends that are inspiring citizen participation and deepening volunteer impact worldwide.
BONUS: Did you know Detroit has two border crossings leading into Windsor, Ontario? Extend your conference stay and visit Canada via downtown Detroit! Just take the Ambassador Bridge—the world's busiest international land crossing—or the Detroit-Windsor tunnel, traveling 75 feet below the Detroit River.
Have FUN!
Whether it's participating in the Compassion Games, engaging in some friendly social media competition to win prizes, or attending an evening event, there will be plenty of opportunities to have a lot of fun. Get pumped up at the Welcome to Detroit Celebration on June 27, which will include networking, games, food and beverages, as well as unrivaled views of the 58th Ford Fireworks shows – one of the best in the country – along the Detroit River.
Be a part of the movement.
Don't miss out on this singular opportunity to join thousands of changemakers coming together to shape the future of volunteerism! Join us at the Conference on Volunteering and Service, June 27-29 in Detroit. Learn more and register today.
Share this post