From Food Drives to Disaster Relief, Outstanding Make a Difference Day Volunteers Awarded Grants to Make Change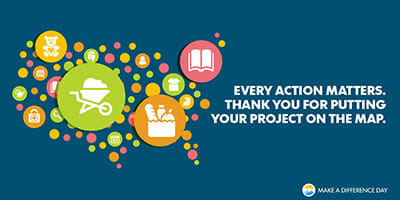 At age 14, Dominic Esposito saw a need in his community and found a creative way to help solve it. It was 2013, and Hurricane Sandy had recently devastated New Jersey – leaving many families in need of help and food panties struggling to keep shelves stocked. When the entrepreneurial teen learned that valuable scrap metal was not being properly recycled in his community, he founded Scrap Hunger Inc. to collect and recycle unwanted scrap metal with proceeds benefitting area food banks.
On Make a Difference Day, the nonprofit hosted a walk-a-thon, leveraging social media, word-of-mouth, and door-to-door marketing to gain business and community support. The event raised nearly $2,500 for the Food Bank of Monmouth and Ocean Counties – enough to provide 7,300 meals for people in need.
Dominic's commitment to service echoes those of millions of volunteers who unite in service each year on the 4th Saturday in October for Make a Difference Day, an initiative of USA TODAY, backed by the Gannett Company and TEGNA Inc., in collaboration with Points of Light. This week in Washington, D.C., volunteers with Scrap Hunger and other community groups – selected from thousands of entrants – will be honored for their 2015 Make a Difference Day projects.
Guests at the awards ceremony will include NBC Nightly News anchor Lester Holt, and Andy Cohen, host of Bravo's Watch What Happens Live, who will also be recognized for serving as an advocate for amfAR, The American Foundation for AIDS Research.
Newman's Own will award $10,000 grants to the organizers of the 13 winning projects, and the TEGNA Foundation and Gannett Foundation will give an additional $10,000 all-star grant to a past winner that has demonstrated excellence in volunteerism during the most recent Make a Difference Day.
"In celebrating these Make A Difference Day honorees, we can find inspiration to take action in our own lives," said Tracy Hoover, CEO, Points of Light. "They remind us that we can use our special skills, our talents, our dollars or our tweets to create positive change every day. In return, the best part of service is that it awakens our passions and connects us to one another."
The 2015 national Make A Difference Day Award honorees include:
Return of the Natives, Salinas, CA
Grace Evangelical Lutheran Church, Muncie, IN
Scrap Hunger, Lincroft, NJ
Animal Friends, Pittsburgh and Wexford, PA
The Pediatric Connection, Richmond, VA
Susquehanna University, Selinsgrove, PA
GFWC Beverly hills Junior Women's Club, Chicago, IL
Volunteer Center of Story County, Ames, IA
Stanwood High School, Stanwood, WA
Taking Root, Cincinnati, OH
The 2015 City Award honorees are:
Richmond, CA
Moonachie, NJ
Aberdeen, SD
The All-Star Award is:
Operation Access, Sonoma County, CA
Learn more about the 2015 Award Winners and find how to get involved for Make A Difference Day 2016.
Share this post