11 Words That Are Transforming America
This post is by Tracy Hoover, president of Points of Light.
The journey of a thousand miles may begin with a single step – but for more than 900,000 AmeriCorps alumni, the journey of a lifetime of service began with 11 words from a powerful pledge.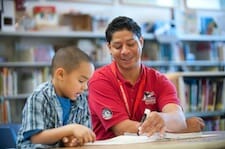 An AmeriCorps member in Minnesota tutors a child in reading.
"I am an AmeriCorps member, and I will get things done."
This month marks 20 years since the first class of AmeriCorps members began their year of service. As part of the anniversary celebrations this week, Points of Light with AmeriCorps Alums will honor 20 exceptional AmeriCorps alumni, more than 50 leaders who helped AmeriCorps get started and more than 20 companies for their tremendous work supporting and advancing national service.
Service unites Americans and transcends politics and partisanship. When President Bill Clinton signed AmeriCorps into law, he praised Americans' "fundamental desire to do something to reach beyond themselves."
This week, President Obama and three former presidents – including Points of Light founder President George H. W. Bush – will honor AmeriCorps and remind us that volunteer service is an essential part of our national character. It's how we get things done.
AmeriCorps isn't just a one-year commitment. Research shows that AmeriCorps is creating pathways and commitments to a lifetime of service. Long after their terms expire, AmeriCorps members are still getting things done here in America and across the globe.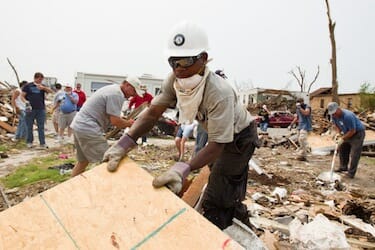 AmeriCorps members help clean up after a tornado in Missouri.
Kyle Kimball served in 1994 at AIDS Outreach in Birmingham, Alabama. Today he manages economic development for the City of New York.
Mona Mowafi served as a health educator at the Latin American Youth Center in Washington D.C. Today she is president of an organization that encourages social entrepreneurship and civic engagement in Egypt by Egyptians across the globe. Rebecca Langebuilt houses and trails with the National Civilian Conservation Corps. Today she is an active duty Air Force major and works in the Office of the Chairman of the Joint Chiefs of Staff, bringing the perspectives from both civilian and military service to her role.
Since AmeriCorps' founding in 1994, AmeriCorps members have contributed more than 1.2 billion hours in service, helping 15,000 community organizations mobilize 4 million volunteers to help tackle some of the toughest issues, from poverty to education, health care to disaster recovery and environmental cleanup.
We have many to thank for 20 powerful years of AmeriCorps. That's why we are honoring companies that have demonstrated outstanding commitment to national service as thought leaders, investors in national service programs, and mentors and employers of alums. We've named these companies National Service Corporate Champions, and you can see the full list here.
We're also grateful to the many who played a role in founding AmeriCorps. The AmeriCorps Alums Founders Club has brought many of these individuals together again to support AmeriCorps and the alumni network.
AmeriCorps members, AmeriCorps alumni and millions of volunteers are transforming our communities and our country – all because those who served in AmeriCorps have proven that they continue to believe – and live – a simple, 11-word credo.
"I am an AmeriCorps member, and I will get things done."
Share this post