Vice President Joe Biden Joins Points of Light on 9/11 Day of Service to Pay Tribute to First Responders
As volunteers gathered today – the 9/11 Day of Service and Remembrance – at George Washington University in Washington, D.C., Vice President Joe Biden stopped by to thank them, encourage them and join them in honoring first responders.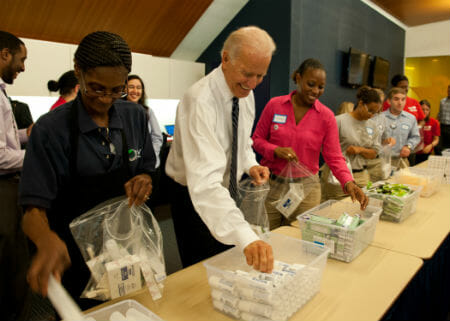 Vice President Joe Biden joins volunteers at George Washington University to assemble hygiene kits.
"What you're doing matters to them," he told the volunteers. "The recognition matters."
The vice president then circled through an assembly line with volunteers from the university, AmeriCorps and various nonprofit organizations. They put together 500 hygiene kits – with toothpaste, nail clippers, shampoo, combs and more – for Operation Gratitude, which distributes care packages to veterans, first responders and the caregivers of wounded military members. There was also an opportunity to talk to first responders from local fire stations.
Points of Light – in partnership with Operation Gratitude and George Washington University, and with support from the Corporation for National and Community Service – organized the volunteer service project.
Wendy Spencer, CEO of the Corporation for National and Community Service, came to applaud the volunteers. She said to them that volunteering on 9/11 is a sincere way to "participate, honor and give back."
How did you recognize the 9/11 Day of Service? Tell us at [email protected]
Share this post