At every turn, stories from every corner of the world tell of human suffering caused by war, poverty, hatred and injustice. The constant onslaught of the last few months have left many feeling overwhelmed, at a loss for words and actions. How do we make sense of recent events? How do we talk to our children about things we as adults cannot understand? How do we turn the division into unity to build stronger bonds of civic engagement and equity?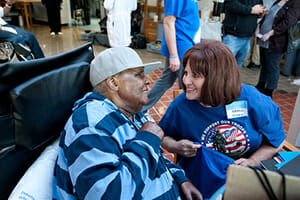 There are no simple answers. Perhaps that's why there's some comfort in one blogger's headline, "Whatever you're feeling is OK." Vu Le is the executive director of Rainier Valley Corps, a Seattle nonprofit that helps develop and support leaders of color to strengthen the capacity of communities-of-color-led nonprofits. Le acknowledges that, whether you're a dedicated volunteer, in national service, or work at a nonprofit, many people "get into this line of work because we are empathetic by nature. That means that often we will feel things acutely and also absorb others' emotions like a sponge."
Points of Light's own AmeriCorps Alum leaders Mary Bruce and Ben Duda penned an aptly titled message to their members: "We're restless." They poignantly state that each act of violence is a "brutal reminder that we have much work ahead to live up to the promise of the AmeriCorps pledge and 'bring Americans together to strengthen our communities.'" In addition to offering up resources for their members struggling with finding their role, they're undertaking an effort to be more active in leading dialogue and action to address disparities and social injustice.
During these troubled times, many resources have come to the fore:
Sharing resources and engaging in dialogue help break through feelings of isolation and disconnection that evolve when a pattern of violence takes hold. We can find opportunities to come together, to understand and heal the divisions among us. And chances are, if you're reading this, you already believe deeply that connecting people through service offers hope for the power of individuals to be bright points of light in all of this darkness.
Share resources you're finding useful, inspirational voices and ideas for bringing people together at #PointsofLight.
Share this post