7,000 Reasons This Teen's Determination Paid Off
In honor of National Volunteer Week, April 6-12, USA Weekend and Points of Light are recongizing the 2013 Make A Difference Day honorees, who will be celebrated in Washington, D.C., on April 10. Here we tell the story of a New Jersey teen determined to help homeless families in his community.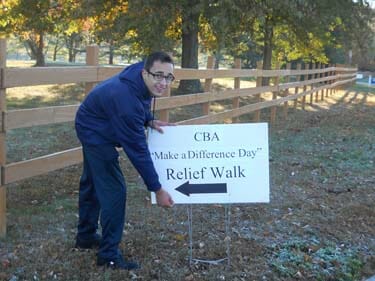 Elijah Rodriguez posts a sign for the fundraiser he organized for Hurricane Sandy victims.
Elijah Rodriguez confronted the devastating effects of Hurricane Sandy every day as a junior at Christian Brothers Academy in Lincroft, N.J. A year after the storm, friends and classmates still couldn't go home, because they had no homes to go to.
Elijah empathized. His family had once been displaced by a fire. But a visit to Union Beach Borough Hall made him realize how many hundreds of families were still homeless, and he asked how he could help.
Officials put Elijah in touch with Pastor Carl Williamson of the Gateway Church of Christ and its Disaster Response Team in Union Beach. Williamson appreciated Elijah's enthusiasm for organizing a Hurricane Sandy Relief Walk but advised that he wouldn't have much time to help him.
"You can't live here in this area without knowing the devastating effects the storm has had on people's lives," Williamson says. "But I thought (the walk) would only raise a small amount of money."
He underestimated Elijah. With only a few weeks left before Make A Difference Day and the first anniversary of the storm, and with help of family and his school, Elijah created pledge forms and flyers, booked the school jazz band to entertain, lined up sponsors, solicited contributions of bagels and water (the necessary fuel of any Saturday morning in New Jersey), and arranged for the mayor of Union Beach to come speak.
More than 100 walkers showed up, with donations totaling more than $7,000.
A short while later, Elijah returned to Williamson, this time with a check.
"He was someone who really took this seriously," Williamson says. "He really wanted to make an impact, and he really cared about the people in Union Beach and the Bayshore area."
The money Elijah raised could have paid for the demolition of two damaged homes or the pouring of three foundations for new homes. Williamson let Elijah make the call.
Elijah decided to rebuild.
Today, those foundations have been laid, and the houses are in various stages of construction, Williamson says.
"There is no place like home," Elijah says. "I wish all Hurricane Sandy victims can return to their homes soon."
Check out the other Make A Difference Day honorees at www.makeadifferenceday.com/winners.
Share this post