These Teens Surprised Themselves By Putting Others First
In honor of National Volunteer Week, April 6-12, USA Weekend and Points of Light are recongizing the 2013 Make A Difference Day honorees, who will be celebrated in Washington, D.C., on April 10. Here we tell the story of a group of Florida teens from a low-income community who started a new tradition of volunteering.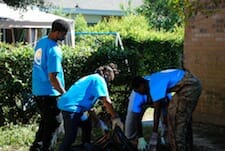 Escambia Charter School students volunteer on Make A Difference Day by doing yard work
Some of the most troubled teenagers in one of Florida's poorest counties attend tiny Escambia Charter School, an independent high school in Cantonment, Fla., near the Alabama line. Eighty percent of the 120 students qualify for free or reduced-price lunches. Many were rejected by public schools for bad behavior or grades. But on Make A Difference Day they surprised themselves, and the community, by putting others first.
Starting a month ahead, students collected or contributed 300 pounds of canned goods and snacks for a food pantry and the USO in nearby Pensacola, as well as 60 boxes of clothes for three shelters. Early on Oct. 26, 20 students, with 15 parents and teachers, organized and delivered the donations — then split into teams to do yard work for four elderly or disabled homeowners.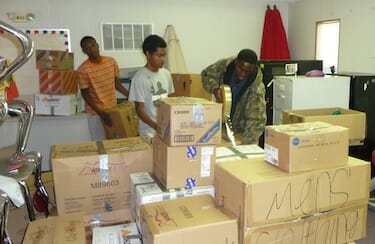 Escambia Charter School students sort and pack clothes for local shelters on Make A Difference Day.
"The students were so proud," says Principal Jerome Chisolm. "The community didn't expect this from our kids. The kids didn't even expect it from themselves. Helping others shows them the world doesn't revolve around them."
"It made me feel great," says sophomore Gerico Mackey, 16. He raked leaves, picked up broken limbs and planted flowers at two houses. "This was new for me, helping people who can't do for themselves."
FavorHouse, a shelter for abused women and their children in Pensacola, often receives donations of tattered, outdated clothing, says residential programs director Marsha Travis. So she was impressed that "these kids took the time to sort through" a dozen boxes of clothes, including teen sizes few people donate. "This school obviously wants students to understand the value of giving back," she says.
That's right, says Chisolm: "Make A Difference Day was the seed for getting our kids permanently involved in volunteering. We're thinking of a slogan: Enter to learn, depart to serve."
Check out the other Make A Difference Day honorees at www.makeadifferenceday.com/winners.
Share this post