Abandoned at Birth, This 11-Year-Old Knows How Much This Small Gift Means to a Scared Child
In honor of National Volunteer Week, April 6-12, USA Weekend and Points of Light are recongizing the 2013 Make A Difference Day honorees, who will be celebrated in Washington, D.C., on April 10. Here we tell the story of a California girl who helps local police and fire departments calm scared children with donated stuffed animals.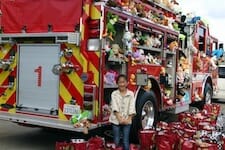 Jessica Carscadden stands next to a fire truck adorned with stuffed animals from her We Care Bears Project.
Jessica Carscadden – abandoned at birth because of facial deformities – found comfort in stuffed animals when she was adopted at age 5. While cleaning out her room one day a few years ago, she decided to donate her loved but unused stuffed bears to other kids.
"I am only one girl and I took all of my animals to the fire department," Jessica says on her website. "But I know the police department also comes into contact with kids who are scared so I made a plan."
From there, the We Care Bears Project was born. The project accepts donated stuffed bears for police and firefighters to give to injured or frightened children on emergency calls.
On Make A Difference Day, Oct. 26, 11-year-old Jessica of San Diego rallied volunteers and oversaw donations of about 3,000 stuffed bears. About 60 volunteers recruited by Jessica through her website, news media announcements and word-of-mouth campaigns, sorted, tagged and filled about 580 bags with bears (exceeding her goal by 80 bags).
"As a result of the efforts of the We Care Bear Project on Make A Difference Day every police car in San Diego [had] a bag of stuffed animals for children they meet on calls," says Kathleen Carscadden, Jessica's mom. "The heart of the We Care Bears Project is children helping children, and this event was no different – the majority of volunteers at the event were schoolchildren."
Jessica's efforts have resulted in an outpouring of support for the project and Jessica herself.
"Jessica's commitment to her community has been inspiring, says Councilman Mark Kersey of San Diego. "She has translated her personal experience into a project that has gone on to help children throughout San Diego. Because of her work many children in our city are being comforted during a scary time in their lives."
Check out the other Make A Difference Day honorees at www.makeadifferenceday.com/winners.
Share this post