Be a Role Model for Civic Engagement
How to Inspire a New Generation of Leaders and Changemakers
It's hard to believe that summer is already drawing to a close and it's back-to-school season. After working in the education sector for more than a decade, it's a time of year for me that offers space for planning, reflection and thought.
As we think about the new school year and all that our young people will learn and experience, especially with what has been going on in the world lately, my mind turns to how they will be taught about the importance of improving community and civic engagement.
Certainly, teachers improve community by committing to a profession that's all about giving of themselves, in the education of others to make the world a better place. And many families are deeply rooted in actions and traditions that improve community. But where else will our young people see this type of engagement, in a way that is organic and natural in every ecosystem? Where will they learn to celebrate it? To value it? To look for ways to get involved?
Young, old; rich, poor; no matter where we live in the world, we all have the same amount of time in a day. And what a privilege it is to be able to share any amount of time supporting issues that matter most to you, for the benefit of others.
Civic engagement, particularly in support of improving conditions for humanity, is not something that should be forced. It's not an act or series of actions to categorized as a checked box, or had-to-do-it-for-credit thing. Emotions – be it passion, or empathy, or a determination for a better world – that's what fuels willingness to get involved.
And youth are getting more and more involved. Young people are building the world we want to see tomorrow and they're also impacting the world we see today. As we heard from Lindsay Peoples Wagner, editor-in-chief at Teen Vogue, at our Points of Light Conference in June, "young people are not the future, they are the NOW."
The foster system, women's health, hunger, the environment – at our conference, we heard from young people who are taking on these issues (and more), fueled by their passion and by the knowledge that they're making a difference.
Where does that passion and commitment come from? How did they learn it?
It comes from all of us; from the role models who showed them that engagement matters, that it's everyone's job to be engaged, that even though they are young they can make change, and that together, we can create a better world.
Let's model engagement for others, so we can keep building the Civic Century – making it impossible to stand on the sidelines. Let's create pathways to make getting involved easier and part of our daily lives. Let's recognize and celebrate all efforts of community involvement and inspire each other in ways that accelerate impact.
So, on the eve of a new school year, I ask: What will you do to encourage the young people in your life to get involved in their community and become civically engaged? How will you be a role model? Or, better yet, what can you do together in support of your neighbors, your community and others?
If you need help finding volunteer opportunities, you can find opportunities near you and other resources right here on the Points of Light website.
We'll be glad you did. And the young people in your life may remember it for their lifetime.
---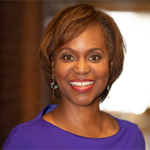 Natalye Paquin was the president and chief executive officer of Points of Light from 2017–2022. She is a visionary and results-oriented leader, with more than 20 years of experience providing strategic, operations and fiscal leadership in the nonprofit and public sectors.
Share this post