Be a Joy Maker This Holiday Season
This post is by Daniel Horgan, executive director of generationOn, Points of Light's youth service division.
I remember the residents' smiles and the laughter that filled the living room at Woodcliffe Manor Nursing Home as though it was yesterday. For several years while in high school, I organized a group of volunteers to sing holiday carols, share homemade goodies, and pass out personalized gifts to the seniors based on their wish lists.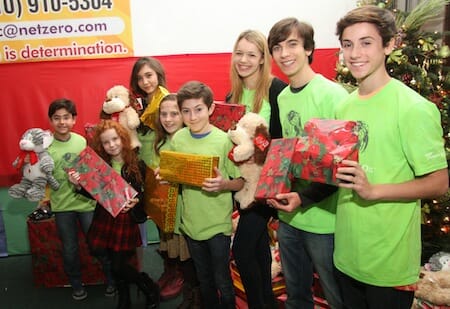 Young people get ready to distribute presents during a 2013 Joy Maker event.
It was a special joy-making operation every year that reminded my friends and I that the time and compassion we share with others can teach us so much more than we give.
Since Nov. 10, over 60,000 kids and teens across the country and around the globe have been bringing joy to others through service as part of the fifth annual Joy Maker Challenge generously sponsored by Hasbro and powered by generationOn, the youth service division of Points of Light.
The campaign is designed to connect students in grades K-12 to meaningful, hands-on service projects during the holiday season. The Joy Maker Challenge also addresses poverty through Hasbro's commitment to donate a toy or game up to $1 million dollars' worth to Toys for Tots for every action that a kid or teen takes to help others.
The stories of young joy makers featured on the generationOn site are a great source of inspiration. Students are learning about needs in their community, discovering ways that they can be a part of solutions, and calling on others to spread joy as well.
The Joy Maker Challenge has united students across two schools in Richmond, Va. – Bon Air and Crestwood Elementary Schools – to make holiday crafts (tootsie-pop turkeys) for those in hospice care. The kids at the Boys and Girls Club of North San Luis Obispo County in California partnered with Loaves and Fishes, an organization that feeds the hungry and homeless, to decorate boxes with holiday cheer that were then distributed to local businesses participating in a community-wide food drive.
Proving its ability to bring people together, the Joy Maker Challenge inspired the student body at Tanglewood Elementary School in Fort Worth, Texas, to support two classmates who lost their home and possessions to a fire. Funds, gift cards, clothing and even a Christmas tree were donated by students, faculty and staff thus strengthening Tanglewood's culture of compassion.
With so many needs all around us, there are many ways that students, schools, youth groups and youth-serving organizations can take action. generationOn offers project ideas, planning toolkits, and service learning lesson plans to help equip kids and teens with the tools they need to be a joy maker. And joy making does not have to end after the holidays either as illustrated by kids in Middlesboro, Ky., who serve up joy 52 weeks a year.
Through an initiative called "52 Weeks of Giving," kids living in rural Appalachia have been performing weekly acts of kindness every Friday for the past four years.
From delivering handmade thank you cards to local firefighters to raking leaves for elderly residents to fundraising for kids fighting cancer, the "givers" bring joy to people around the world through service all year long despite many of them living in poverty themselves.
Despite the traditional hustle and bustle that we find ourselves in during the holiday season, let's pause for a moment and reflect on the last time someone shared joy with us. Whether someone shared a kind smile, held a door, or offered a helping hand, it sure does feel good to recognize all of the joy around us.
So let's all commit to putting more joy into the world by being a joy maker, getting the kids in our lives engaged in service, and living out the motto of the kids engaged in "52 Weeks of Giving" – Don't let anyone be nicer than you!
For more information on the Joy Maker Challenge, please visit www.generationOn.org/joymaker.
Share this post