Who Made the List? Announcing the 50 Most Community-Minded Companies in the Nation
This post is by Tracy Hoover, Points of Light's president.
Today, Points of Light and Bloomberg L.P. announced The Civic 50 – the 50 most community-minded companies in the nation in 2014. See the list below and video announcement from Points of Light Chair Neil Bush.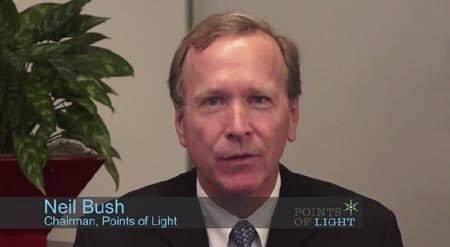 Click here to watch a short video announcement of the 2014 Civic 50 from Points of Light Chair Neil Bush.
The Civic 50 sets the standard for corporate community engagement nationwide and creates a roadmap for companies seeking to best use their time, talent and resources to improve the quality of life in the communities where they do business.
Please take a moment to celebrate these companies for their great and continued efforts. And as the holidays approach, I hope you'll put your money where your values are and use your purchasing power to support all the companies that are doing great work in their communities.
To learn more, click here or register for our free webinar, "The Civic 50: 2014 Highlights and Best Practices," Dec. 17 at 2 p.m. ET.
The 2014 Civic 50, in alphabetical order, are:
AbbVie
Adobe Systems Incorporated
Aetna Inc.
Alcoa
Altria Group, Inc.
Apollo Education Group
AT&T
Bank of America
Baxter International Inc.
Caesars Entertainment *Consumer Discretionary Sector Leader
Capital One
CenterPoint Energy *Utilities Sector Leader
Citi
Comcast Corporation *Communications Sector Leader
ConAgra Foods *Consumer Staples Sector Leader
CSAA Insurance Group – a AAA insurer DIRECTV
Dr Pepper Snapple Group
Eli Lilly and Company
FedEx Corporation
Freeport-McMoRan Copper & Gold
Gap Inc.
GE
General Mills
Hasbro, Inc.
Health Care Service Corporation
Hewlett-Packard *Technology Sector Leader
Intel Corporation
Intuit
KeyBank *Financials Sector Leader
Motorola Solutions, Inc.
Pacific Gas and Electric Company
Prudential Financial, Inc.
PwC
Raytheon Company
SAP
Sigma-Aldrich *Materials Sector Leader
Southwest Airlines
Sprint Corporation
State Street Corporation
Symantec Corporation
The Hershey Company
Toyota Financial Services
TSYS
UnitedHealth Group *Health Care Sector Leader
UPS *Industrials Sector Leader
Valero Energy Corporation *Energy Sector Leader
Verizon
Viacom
Western Union
Share this post