Want Meaningful Family Time? Volunteer Together
Kevin Bangilan seems to uncover a new passion every time he joins in on a new volunteer project with his family. After a 4-H plant sale, the 9-year-old from Raleigh, N.C., announced he wanted to become an entrepreneur. After volunteering with his family at the local food bank, he announced he wanted to become the U.S. president.
"He talks now about how he wants to help people," said his mother, Serina Bangilan.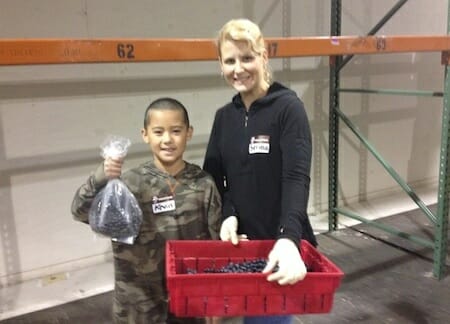 Kevin Bangilan and his mother, Serina, participate in a blueberry-picking volunteer project for a local food bank.
Those are the moments that drive Family Volunteer Day and inspire Points of Light sponsor, Disney, to make investments that inspire families to give back to communities where they live, work and play.
Since 1991, Points of Light has promoted the Saturday before Thanksgiving to kick off the holiday season with family giving and service. The day showcases the benefits of volunteering together as a family and provides opportunities for families to serve their communities in ways that spark their passions. The day also signals the start of National Family Week, sponsored by the Alliance for Children and Families.
This year's Family Volunteer Day on Nov. 22 was sponsored by Disney Friends for Change and powered by generationOn, Points of Light's youth and family service division. Through www.generationon.org/fvd, families discovered many ways to take part in the day. The site has family-friendly project ideas and resources, and families can also search for family-friendly projects available in their zip codes.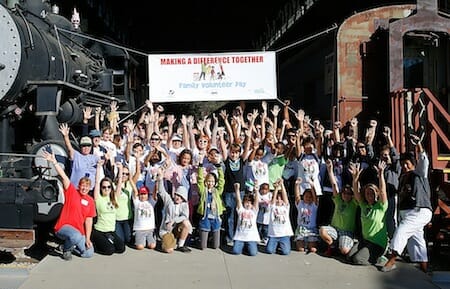 Volunteers celebrate Family Volunteer Day at The Travel Town Museum in Los Angeles.
Families that came back to the Family Volunteer Day site to share their stories of service have a chance to receive a generationOn prize package, which includes a family night out on the town with dinner and a movie.
Ten families will be selected to be featured in a fall edition of FamilyFun magazine.
"We recognize that the holidays are family time but, ironically, they are the busiest time of the year – with work and social obligations for mom and dad, and the end of first semester crushes for kids," said Dan Horgan, executive director of generationOn. "Family time often gets lost in the shuffle. Holiday volunteering is a great way for families to spend time together and to really connect."
In support of Family Volunteer Day, Disney Friends for Change provided funding for family-friendly projects across the country, including a special event at Downtown Disney in Anaheim, Calif., where Disney VoluntEARS packed 5,000 snack packs for kids at local food banks. Other projects included painting a mural at a community nonprofit, packing and delivering meals to the chronically ill and visiting patients in hospice care.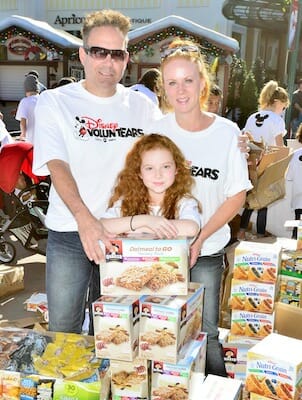 Francesca Capaldi, a generationOn celebrity youth ambassador, and her family help pack food on Family Volunteer Day at Downtown Disney in California.
There's reason to believe the feel-good effect of meaningful family volunteer projects may help strengthen family bonds.
Building on a rich history of creating memorable experiences that bring families together, Walt Disney Parks and Resorts hosted dozens of nonprofits from across America at the Disneyland Resort for "Discover Together," a two-day symposium in January 2014, focused on how adults can make a difference in children's lives by spending meaningful time with them.
The initiative, which employs generationOn's Ready-Set-Go! – a training for nonprofits to help them better engage family volunteers – is based on research exploring the significance of meaningful family time. A recent study by the Center for Childhood Creativity demonstrates the powerful influence positive parent-child interactions have on a child's ability to learn, grow and thrive. The study shows that family volunteering helps to create these important bonds and teaches children valuable real-life lessons about empathy and caring.
Points of Light and Disney recognized 10 extraordinary families with Daily Point of Light Awards during the week leading up to Family Volunteer Day. The Daily Point of Light Award recognizes the power of individuals and families to spark change and improve the world through volunteer service.
For the Bangilans – who won a Daily Point of Light Award last year for their service – the rewards are apparent in the work of serving their community. Whether it's packing blueberries for the East Carolina Durham Food Bank or selling plants for 4-H, the family of four – including father, Rod, and younger son, Crisanto, 3 – tries to do it together.
"I just really believe in the little things we do for one another in this world," said mother Serina Bangilan. "We really believe that it will come back to us."
Share this post