'Thank You' Doesn't Have to Mean 'Goodbye' for Your Donors
Points of Light Civic Accelerator alum Edgeflip has publicly launched Donor Boost, the Chicago-based company's new fundraising product.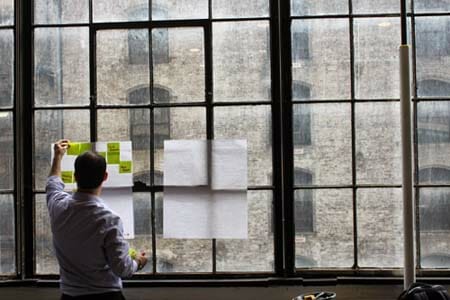 Matthew Rattigan, Edgeflip co-founder, participates in a Points of Light Civic Accelerator spring 2014 session in New York.
On the surface, Donor Boost is simple: It's a Facebook-enabled share button that can be embedded into any webpage or email. Behind the scenes, however, Donor Boost – which is in a public testing phase – is intricate. It collects data that can both inform your organization about its online supporter base and optimize performance.
By embedding the button on a thank-you page or in a thank-you email donors see after contributing, your organization can make it easier for donors to encourage their friends to give.
Donor Boost users aren't just "sharing" on behalf of your organization, they're advocating. When they click, their friends receive personalized notifications, coming from a trusted source.
By enabling your donors to advocate on your behalf, you enlist the mighty force of peer influence, which can lead to demonstrably higher response rates. The goal: more high-quality impressions, more supporters and more donors.
Learn more about Donor Boost and other leading Chicago-based civic ventures, and meet 13 of the most innovative civic startups from across the country as the Points of Light Civic Accelerator celebrates its fall 2014 Demo Night in Chicago on Dec. 17 from 5:30 to 9 p.m. at Coalition Impact.
Click here to RSVP and find out more.
Share this post