Serving Those Who Served Their Country – Exelis Action Corps Members Make it Their Mission
Lindsey Kirksey's childhood home was in such bad shape, two of the rooms were separating. But the Korean War veteran in his early 80s couldn't afford to do anything about it. He needed help.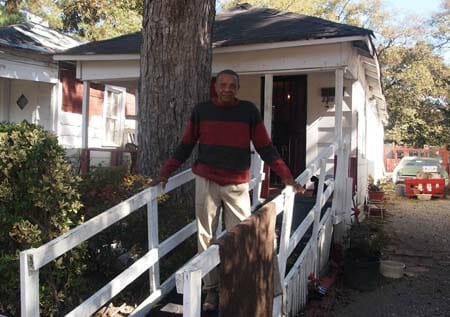 Korean War vet Lindsey Kirksey stands in front of his house before its renovation.
Volunteers from the Exelis Action Corps came together to repair his four-room Montgomery, Alabama, house.
"The volunteers I spoke to – they are just like me," said Kirksey, who taught math in low-income neighborhoods in the Montgomery area. "They want to help people just like I want to help people."
For decades, veterans and military service members of all ages have faced unique challenges. And there is growing concern in particular for the one million veterans transitioning out of the military between 2013 and 2018.
The volunteers from Exelis Action Corps, the signature volunteer service program of aerospace and defense company Exelis, have been on the front lines.
They're lending their time and expertise – whether it's providing career coaching to a new veteran, sprucing up a veterans support center or working with military families overcoming the challenges of military life, such as frequent relocation or deployments.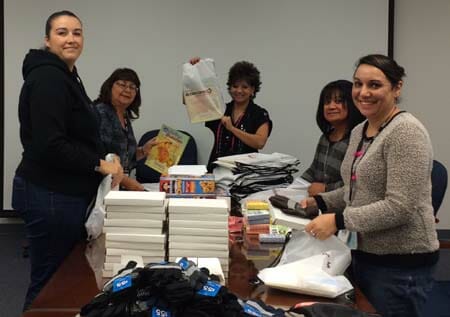 Exelis Action Corps volunteers put together care packages for veterans traveling through the Honor Flight Network.
Across the country, the young program – launched in October 2012 through a partnership with Points of Light – has already engaged 4,374 volunteers and completed 317 projects, serving thousands of veterans, service members and their families.
"We are proud of what the Exelis Action Corps has accomplished, but it's not just about the numbers," said David Albritton, vice president and chief communications officer at Exelis. "It's about the difference we are making in the lives of those who served and the families who sacrificed for us."
Just a few examples from 2014:
Across the country, Exelis employees created Family Fun Night packages for service members and their families. Volunteers shared with others what they like to do as a family, including playing games, watching movies and working on crafts. Each package was different depending on what the family decided to put into it. Service members received the packages so they could enjoy their own free "family fun night."
In Salt Lake City, Exelis employees worked with Canines With a Cause, helping train 10 dogs to act as service companions for veterans. They also built 35 dog beds for veterans who already had service dogs.
In Clifton, New Jersey, Exelis employees collected turkeys for veterans at St. Peter's Haven, a local shelter serving veterans. Their efforts yielded 47 turkeys and enough funds to purchase complete thanksgiving meals for 27 families.
Employees supported the Honor Flight Network, which flies veterans for free to Washington, D.C., to visit their respective war memorials. The volunteers assembled care packages for veterans on six flights. Each veteran received a flight bag containing items to make his or her visit more memorable and enjoyable.
In various locations, Exelis leadership provided resume assistance and interview coaching to hundreds of veterans seeking employment over the course of the year.
Ten Exelis offices held large projects, which engaged employee volunteers in the communities of Fort Wayne, Indiana; Roanoke, Virginia; Clifton, New Jersey: Rochester, New York; Washington D.C.; McLean, Virginia; Philadelphia; Salt Lake City; and Colorado Springs, Colorado. These projects ranged from a health fair to horse therapy sessions and revitalization of several veterans' facilities.
For many Exelis Action Corps volunteers, it's personal. As a veteran and volunteer, Erica Jeffries is clear on what matters: "To do good for others – it's our purpose in life."
Jeffries recalls one of her most gratifying volunteer moments with Exelis Action Corps came through Final Salute, an organization that provides housing to homeless female veterans in the Washington, D.C., area. The volunteers worked on landscaping, painting and otherwise making the house a comfortable living environment.
"The experience working with Final Salute was powerful because we knew we were preparing a home for veterans and their families," Jeffries said.
As another Exelis Action Corps member pointed out: A wonderful feeling comes from "seeing the appreciation on the vet's face. All that matters is making their day a little brighter."
Share this post