When it Comes to Engaging Volunteers, Here's What Really Matters
This post is by Tricia Thompson, vice president of training and consulting at Points of Light.
Good volunteer engagement is more than traditional volunteer management training, yet that's where many organizations focus their efforts. Recent research tells us that taking a broad organizational approach means better results for our volunteers and our organizational effectiveness.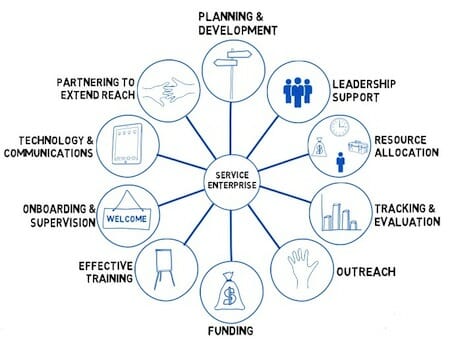 Researchers at Algorhythm and the RGK Center for Philanthropy at the University of Texas at Austin have been studying nonprofits pursuing certification as Service Enterprises – organizations that are strategically leveraging volunteers to better meet their missions and bottom lines.
They have found that 10 characteristics distinguish organizations that are engaging volunteers well. (See graphic above.) What's more – organizations with 50 or more volunteers that demonstrate these characteristics outperform their peers who do not engage volunteers.
Service Enterprises address each of these functions:
Planning and development – strategies and infrastructure for mission-driven volunteer engagement. Service Enterprises are thoughtful and intentional about where volunteers are best suited to contribute to the cause.
Leadership support – executive commitment to volunteer engagement. The board and executive director (or equivalent) of Service Enterprises value the importance of volunteers.
Effective training – volunteer and staff training. Volunteers and paid staff at Service Enterprises are equipped to successfully work with each other.
Outreach – Service Enterprises conduct volunteer recruitment for programmatic and operational roles.
Onboarding and supervision – process to bring volunteers into their roles. Service Enterprises match volunteers to appropriate positions, clarify their roles and orient and support them throughout their service tenure.
Partnering – mutually beneficial relationships with service groups, funders and other stakeholders. Service Enterprises increase engagement and reach through community partnerships.
Technology and communication – Serivce Enterprises leverage technology for connecting with and supporting volunteers.
Tracking and evaluation – outputs and outcomes of volunteer service. Service Enterprises assess the quality and contributions of the volunteer experience and how it can be improved.
Funding – Service Enterprises fundraise for volunteer engagement.
Resource allocation – Service Enterprises allocate sufficient resources (time, money, people, tools) to volunteer engagement.
While there are similarities between basic volunteer management training and Service Enterprise practices, there is an important difference, too.
The Service Enterprise practices require commitment from the entire organization rather than the volunteer manager exclusively. The characteristics include organization leadership and infrastructure support as ingredients for success. In essence, Service Enterprises have an organizational cultures and support systems that fundamentally leverage volunteer time and skills.
These features help explain why volunteer management training is necessary, but not sufficient. Volunteer management training often provides the tools for working with volunteers. However, it typically doesn't address the organizational factors that support the widespread adoption of these tools.
Organizations wanting to utilize this broader approach in developing their volunteer engagement will find the Service Enterprise characteristics are a useful road map.
For those wondering where to start, the researchers recommend focusing on leadership support, planning and development, or effective training. These characteristics are especially important practices for success and help lay a strong foundation for operating as a Service Enterprise.
For more information about the Service Enterprise characteristics or how to become a certified Service Enterprise, visit www.pointsoflight.org/service-enterprise-initiative.
Share this post