Companies Eager to Work Together in Response to Ebola
This post is from PSI Impact.
Unlike the empathy that characterizes the reaction to a natural disaster like a hurricane or earthquake, the public response to Ebola has been driven by fear. The result has been a lack of support for much-needed relief efforts. Companies are joining nongovernmental organizations, philanthropic partners and public sector leaders to change that.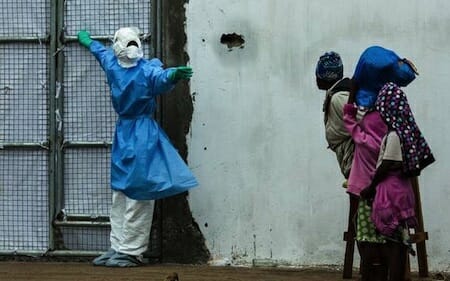 (Photo courtesy USAID)
"I don't know that I've ever seen a private sector group come together like this before," said David Barash, a physician and head of GE Foundation's Global Health Portfolio, at a recent gathering of corporations, nongovernmental organizations, philanthropic organizations and government partners in Washington, D.C.
Points of Light, the Committee Encouraging Corporate Philanthropy, Collaborate Up, PSI (Population Services International) and PYXERA Global organized the all-day event, held Dec. 3, to discuss how to scale and support the response to Ebola by combining the power of corporate skills and pro-bono efforts with philanthropy and in-kind giving.
"For all of their own reasons, some the same as ours at GE, companies are just more engaged, more interested," Barash explained later. "There's a desire to come together. There's enough awareness, enough companies paying attention finally."
Representatives from more than 20 companies attended, including GE, IBM, Johnson & Johnson, PwC, GlaxoSmithKline, UPS, Western Union, AT&T, Deloitte, Bank of America and Pfizer.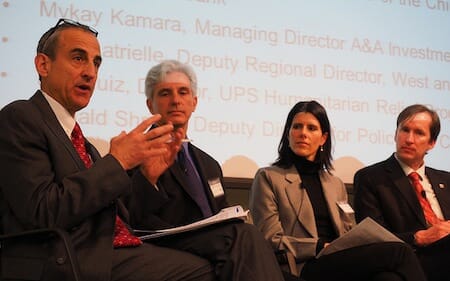 From left, Donald Shriber, CDC Center for Global Health; David Barash, GE Foundation; Amy Latrielle, PSI; and David Evans, World Bank, at the Dec. 3 event.
Other nonprofits, including Direct Relief, Global Giving and Alpha Kappa Alpha Sorority Inc., were also represented. Office Depot provided financial support for the event.
Speakers included representatives from the White House, the U.S. Agency for International Development, the State Department, the Centers for Disease Control and Prevention, and leading nonprofits responding to Ebola in the region.
Moussa Abbo, senior regional director of West and Central Africa at PSI, delivered a set of welcoming remarks; Amy Latrielle, deputy regional director for West and Central Africa at PSI, served on an afternoon panel discussion focused on how to strengthen health systems to respond effectively to tomorrow's outbreaks.
The corporations' representatives emphasized the need to share information on who's already doing what and where, what's needed and where, and what's in the pipeline. They also discussed the basis for effective partnerships.
Many stressed that lessons learned today in the fight against Ebola should be used to strengthen health systems for tomorrow. Partners In Health co-founder Paul Farmer noted that the Ebola outbreak might have been avoided if science from previous health epidemics had been considered.
"This wasn't the first instance of zoonosis – disease moving from animals to humans," Farmer noted. "And it won't be the last."
Some of the most important problems right now in West Africa have to do with the supply chain.
"The largest rubber plantation in the world is in Liberia, and yet we can't get enough rubber gloves," Farmer pointed out. "We need to be able to get staff and stuff to where it's needed."
Farmer currently works with groups in Liberia on the Ebola response, but most of his experience and reputation were built in Haiti.
"[Partners in Health] worked with the GE Foundation not only to build a proper health system, but to have it train Haitians," he said.
The idea of training local talent to sustain change beyond the life of a specific intervention period resonated deeply with the participating executives.
Moussa Abbo, senior regional director of West and Central Africa at PSI, noted the need to address the real roots of a problem like Ebola meant setting up "stronger infrastructure, community supports, market investment and governance that will ensure sustainable solutions that prevent another epidemic."
Large operations, like IBM's Corporate Citizenship programs, depend heavily on nongovernmental organization or government partners.
"Our partners are key," said Diane Melley, vice president for corporate citizenship at IBM. "We rely on them for on-the-ground information and assessment. We can only be most effective when we know exactly what the needs are."
IBM's partners receive something extremely important in return — human resources. Over 260,000 of IBM's 450,000 staff worldwide participate in pro-bono or volunteer work, according to Melley.
The event was not a call to checkbooks but an opportunity to collaborate and connect on potential next steps for long-term involvement based on interests and core business competencies. The group plans to reconvene in early 2015 to follow up on these initial collaborations.
Despite the challenges, "The real tragedy would be failing to leverage these resources," Barash said throughout the day. "Let's use Ebola as a leveraging point for strengthening health systems for the long term."
Share this post