`A From-the-Top Type of Priority' – Altria's Volunteer Program Challenges Employees to Serve Their Communities
For an hour-and-a-half most Mondays, Debbie Colvin's work schedule is full. That's the block of time she spends with her "little" through Big Brothers Big Sisters of Greater Richmond & Tri-Cities. "There is nothing more important than that child during that time each week, because they are not going to understand if [I] don't show up," says Colvin, a program manager at Altria.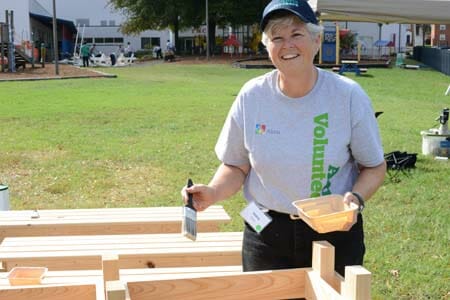 Debbie Colvin, a program manager at Altria, participates in an Altria-sponsored volunteer project.
It helps that her employer is on board. In fact, Altria Group is responsible for the partnership with Big Brothers Big Sisters and a number of other nonprofits in the Richmond, Va., area. Colvin, like many other Altria employees, are allowed and encouraged to volunteer with local organizations throughout the year such as mentoring local middle school students through Big Brothers Big Sisters.
"One of the great things about working here at Altria is that the company supports our volunteerism," says Colvin. "That makes it really nice and really easy for us to give back to our communities."
Employees like Colvin are just one example of how Altria is able to give back to the communities where its employees call home.
Over the last decade, Altria, headquartered in Richmond, has given $1 billion in cash and in-kind contributions to hundreds of nonprofit organizations and supported hundreds of thousands of hours of volunteer service. Giving is mainly focused on the key areas of middle school-age youth and the goal to reduce underage tobacco use, the environment, civic engagement, and arts and culture.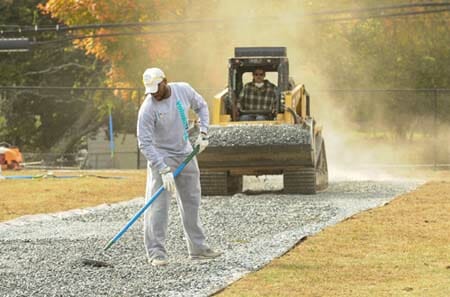 An Altria employee, foreground, helps out at a company-sponsored volunteer service project.
Altria involves employees in volunteer efforts across the country through its partnership with the HandsOn Network, part of Points of Light.
In 2013, volunteer activities at the Altria family of companies generated more than 34,000 hours of service. Altria also matched more than $1.2 million in employees' charitable contributions.
But volunteering at Altria is more than just allowed; it's rewarded. In 2013, Altria sought to inspire greater participation by challenging various divisions across its family of companies to work together to better their best volunteer efforts.
Called the Volunteer Challenge, employees were encouraged to identify projects that aligned with their work – for example, engineers building a greenhouse for a community garden.
In one project, nearly 50 volunteers participated in a makeover of Richmond Public School's Lucille Brown Middle School, renovating the art courtyard and learning garden, creating murals on the library and cafeteria walls, and building a portable kiosk to serve as the school store.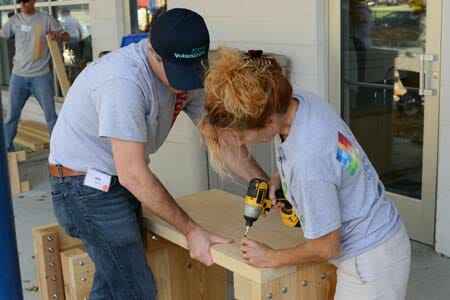 Altria employees participate in a company-sponsored volunteer project.
During the Volunteer Challenge, nearly 5,000 employees contributed more than 30,000 hours of time in company-sponsored events. This represents a 90 percent increase in participation in volunteer efforts during the same period the prior year, growing from a 30 percent participation rate to a 57 percent participation rate.
Another result of the challenge was the creation of a Volunteer Council. The group represents leaders from across Altria's divisions working to build on the volunteer program by raising awareness within the company, collecting stories from volunteers like Colvin to encourage others to get involved and sharing feedback with nonprofits.
"One of the big elements of the Volunteer Challenge was really raising awareness of telling a better story," said Amber Roos, community relations manager at Altria. "We knew we had more people engaging in projects than we were talking about because they weren't putting [their volunteer hours] in the volunteer management system."
Recognition was key to the success of the challenge. At the end, individuals were honored during a lunch with executives followed by a volunteer event at a YMCA in Richmond, where participants built furniture, completed a makeover of the teen center and prepared the center for after-school programs, among other projects.
For Colvin, recognition recently came in the form of a Presidential Volunteer Service Award honoring her work at Big Brothers Big Sisters and numerous other company-sponsored and personal volunteer efforts.
"I've found that the more you give, the more you want to give," she said. "It's one of those things that no money could pay you what you get back here."
"They are a vital, engaged, intentional partner in the community," said Regais Wilson, corporate program manager at HandsOn Greater Richmond, which helps about 500 nonprofit agencies in the community find volunteers. "They recognize it as a from-the-top type of priority companywide."
In 2013, Altria partnered with HandsOn Greater Richmond for 23 projects between its service months of April to June and September to November. In one project, Altria provided $39,000 and 125 volunteers to make over the Virginia Home for Boys and Girls. According to Wilson, "The money was used to pay for playground equipment and furniture for a new elementary school on the organization's campus, as well as building renovations and maintenance projects."
In addition to Altria's volunteer and recognition programs, employees who volunteer more than 25 hours a year with an eligible nonprofit organization can earn a $500 grant for that organization through its Dollars for Doers program.
"They have some of the best volunteers I've ever come across," Wilson said. "They're excited about projects. If you put anything in front of them, they're going to knock it out of the ballpark."
Share this post