TIME Magazine Honors 'A Ragged Army of Volunteers' That Needs Your Help – 3 Quick Ways to Support The Ebola Fighters
This post is by Tracy Hoover, Points of Light's president.
It's not often that TIME magazine names volunteers as its Persons of the Year.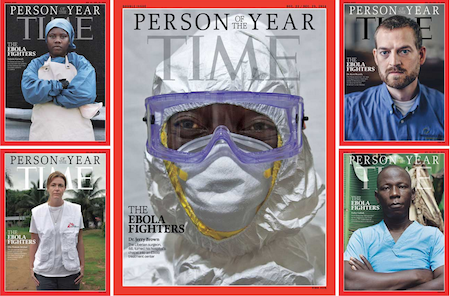 In this series of covers, TIME magazine collectively named volunteers fighting Ebola as its Person of the Year.
But last week, TIME honored the "ragged army of volunteers and near volunteers" – doctors, nurses, public health workers, and those who helped transport the sick and bury the dead – who risked their lives to save others.
"The rest of the world can sleep at night because a group of men and women are willing to stand and fight," TIME writes. "For tireless acts of courage and mercy, for buying the world time to boost its defenses, for risking, for persisting, for sacrificing and saving, the Ebola fighters are TIME's 2014 Person of the Year."
If you've ever doubted that a small group of dedicated individuals can change – in this case, save – the world, I encourage you to read TIME's story about the Ebola fighters and then do something to support their efforts.
You can:
Earlier this month, senior leaders from government, nonprofits and some of the world's largest corporations came together in Washington, D.C., to coordinate efforts to fight Ebola.
Points of Light – along with the Committee Encouraging Corporate Philanthropy, Collaborate Up, PSI (Population Services International) and PYXERA Global – organized the all-day working meeting to discuss how companies can respond to needs, collaborate with peers and scale the impact of their response to meet immediate, urgent needs and build resilient communities for the future.
One last thing we can all do this holiday season: Thank the extraordinary points of light in our own lives by making a call or sending a note, a tweet or a nomination for the Daily Point of Light Award.
In times of worldwide crisis and times of everyday stress, our actions to help others matter. Every single one.
Share this post