Small Efforts Add Up to Huge Results
This post is by Joyce Yamaato, a vice president with Wells Fargo's Strategic Philanthropy and Partnerships Group. Her experience with AmeriCorps sparked a career in philanthropy spanning 20 years.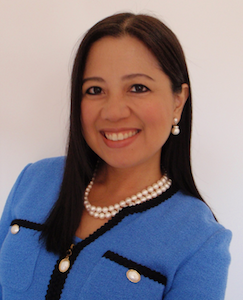 Joyce Yamaato
I will never forget my first day teaching English as a Second Language to adult immigrants and refugees in New Orleans as a new AmeriCorps volunteer in the fall of 1995.
It was a very humid, hot and muggy day, and I was in a small classroom with many students of different ages from different countries. Many were working two to three part-time jobs mostly in the service industry – some had worked the late-night shift and still made it to class.
I was nervous standing in front of them as a 23-year-old, thinking, I better do a really good job because I didn't want to let them down. They were counting on me.
It was early on when I learned that in order to be an effective teacher, I had to move beyond teaching English grammar, sentence structure and spelling. I needed to serve as a coach about day-to-day life in America.
This included things like going to the grocery store to help them figure out the layout of the store, how to navigate public transportation, how to read letters or bills that would come in the mail, how to talk to their children's teachers during parent-teacher conferences and how to build a budget.
I realized that every time I added value based on their terms, not my terms, that no matter how small a gesture it was, it all added up to make a difference. Small efforts add up to huge results.
That year with AmeriCorps changed my life. Ultimately I chose a career in strategic philanthropy with Wells Fargo.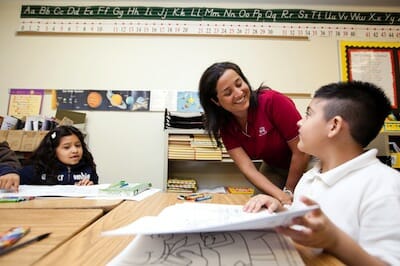 A Wells Fargo volunteer connects with students.
I am so lucky to work for a company like Wells Fargo. If you're an AmeriCorps member pursuing a career after your service year, you also can find socially responsible and community-focused organizations like Wells Fargo.
My journey started with AmeriCorps and then led me to graduate school at Carnegie Mellon University's H. John Heinz III School of Public Policy and Management. My career has been a combination of diverse experiences in banking, foundation, government, nonprofit and private sectors.
The combination of serving as an AmeriCorps volunteer along with my background in various sectors has helped me connect the dots in my day-to-day work.
As a strategist, I get to see the impact of our philanthropy come alive every day. In our communities, Wells Fargo is valued not just as a funder, but as a community leader. We too have a culture of service. More than 55,600 of our team members logged 1.69 million volunteer hours last year.
Wells Fargo is very supportive of pro-bono and skills-based volunteer opportunities as they increase the skills set of our team member volunteers as well as build the capacity of the nonprofit organizations where our team members serve.
A few examples include our Wells Fargo Global Fellows program, Hands On Banking® program and the pro bono community services provided by a number of our team members.
Wells Fargo's Global Fellows program is a paid volunteer leave program. Those selected for the program work on-site in Colombia or India, or consult virtually, with microfinance or social enterprise organizations.
We have bankers provide financial education courses through our Hands On Banking program throughout the year, with special focus on the American Bankers Association's Teach Children to Save and Get Smart About Credit annual campaigns.
Many of our departments also apply their talents to skills-based volunteering. Our legal department team members provide pro-bono services individually in their local communities.
The Digital Channels Group recently concluded a team meeting by inviting a small number of nonprofit organizations to provide design and scoping consultation for their web presence. We have communications consultants serving in board positions who help organizations with their public relations and communications plans.
Regardless of where you choose to get engaged, your pro bono service and volunteerism, however small, has the potential to make a huge impact.
Similarly, the record of the past 20 years of AmeriCorps service tells us that you can make a difference by volunteering. AmeriCorps also has a long tradition in this country of helping others to get things done for America.
This post also ran on the AmeriCorps Alums blog. AmeriCorps Alums is the only national network connecting the nearly 1 million AmeriCorps alumni to the people, ideas and resources that support their commitment to a lifetime of service.
Share this post