Don't Let Winter Volunteering Wane – Disaster Recovery Is Year-Round
After a disaster, all of us watch the news as people are airlifted from floodwaters and volunteers surge to provide shelter and food. But what happens when the media are gone and the communities are left with damaged homes and displaced citizens?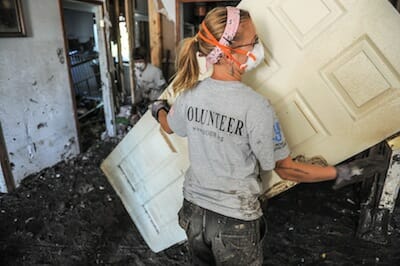 (Photo courtesy of FEMA)
Many of us do not consider that long-term recovery can be a process that lasts for years – or even decades – after the disaster strikes. Areas located in colder climates may experience surges of volunteers during the spring and summer and then struggle to meet the community's needs for other seasons.
In 2013, Colorado experienced flooding that caused catastrophic damage across 200 miles affecting 17 counties. Fortunately, Denver's Metro Volunteers, part of Points of Light's HandsOn Network, was and continues to be there.
A year after the devastating floods, many residents are finally getting utilities restored and beginning to rebuild their homes.
Kristy Judd, executive director of Metro Volunteers, explains that long-term recovery requires strong partnerships – organizations working toward a common goal, as evidenced by the partnership between Metro Volunteers and the Long-Term Recovery Group of Northern Colorado – composed of more than 50 nonprofits, government agencies and faith-based groups.
"Collaboration and cooperation matter a great deal," Judd said. "We have small communities with limited capacity to manage large scale disasters. Together, we're stronger."
As winter closes in, volunteering rates drop, although requests for assistance still come in daily.
Help those who need it most this winter season by volunteering. To find opportunities to support ongoing disaster recovery efforts, visit www.allforgood.org/disasters or contact your local volunteer center.
Share this post