In Ferguson, Volunteering Strengthens the Community
This story comes from the United Way of Greater St. Louis, part of Points of Light's HandsOn Network. (See the original post here.) To get involved with a HandsOn Network affiliate in your area, check out the HandsOn Network map.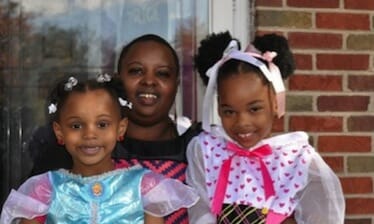 Carmie and her daughters
For many Ferguson, Mo., residents living around the Canfield Green apartments, financial hardships and stress already were part of daily life. When the neighborhood experienced looting and civil unrest (after the Aug. 9 shooting of 18-year-old Michael Brown by a police officer), the struggling community was thrust into turmoil.
Carmie, a single mom who lives only a few blocks from the Ferguson police department, witnessed firsthand the fear and uncertainty that developed in her community.
"When everything happened we were stuck in our home. I saw people running down the street after looting and it felt like I was watching something on TV. It knocked the wind out of me because I was in a situation I couldn't imagine," Carmie said.
Besides forcing many people to take shelter in their homes in early August, the disruptions in the community took a toll on residents' work and daily life.
Since Carmie's daughters, only 6 and 7, could not attend school, Carmie was forced to miss work to care for them. A counselor who regularly made in-home visits to help her daughters cope with the death of their father also was unable to provide services during that time.
"I really tried to shield my girls from what was going on outside of our house. Everything felt so negative, and it was hard to protect them when we could hear people protesting at the police department and helicopters flying overheard," Carmie said. "They were traumatized."
Dealing with a community in upheaval only added to Carmie's worries. Her income only barely covered the basics for her family. Behind on the gas and electric bills, she was unable to buy her girls school supplies and clothes.
"Sometimes you have to make hard decisions about where the money will go that month," Carmie said.
During the events in Ferguson, United Way of Greater St. Louis convened its partner agencies to provide a Community Resource Drop-in Center for Ferguson residents whose needs were exacerbated by what was happening in their neighborhood. After hearing about the drop-in center from a friend, Carmie visited and received help with her gas and electricity payments.
"I haven't been able to pay off my entire gas bill for a year, so bringing my gas bill all the way to zero was a blessing. I was able to buy the necessary school supplies for my girls and now everything feels much more manageable," Carmie said.
For five days, the drop-in center helped nearly 1,200 residents like Carmie from the affected area by providing hot meals, food staples, counseling, utility and rental assistance and respite activities for children. These resources were greatly needed by a community tragically thrust into the spotlight.
"There are a lot of people (in the area) going through things that people aren't aware of," Carmie said. "We don't have access to a lot of resources. The drop-in center was truly a blessing for my family and a lot of my neighbors."
After receiving help, Carmie got an email about volunteering at United Way 2-1-1 and St. Louis County's Multi-Agency Resource Center (MARC) in mid-October. Developed to offer additional assistance to eligible Ferguson residents, the MARC represented the first portion of the work through the St. Louis County contract with United Way.
Since she no longer needed help, Carmie saw volunteering at the MARC as an opportunity to give back to an organization that helped her when she needed it most.
At the MARC, Carmie was tasked with handing out food tickets and gave up a Saturday to serve others in need in the area.
"Volunteering was well worth it," Carmie said. "I didn't require any help the second time, so it was awesome to be a part of serving people in my community."
To learn more about how about how you can help residents in Ferguson, visit United Way of Greater St. Louis.
Share this post