Celebrating Volunteer Service at Home and Around the World at the 2014 Tribute Awards
Under the glow of crimson Chinese lanterns, a retired NBA star-turned philanthropist, a young environmentalist, a nonprofit addressing hunger and a company with a strong history of employee volunteerism received Points of Light Tribute Awards last night at the Chinese embassy in Washington, D.C.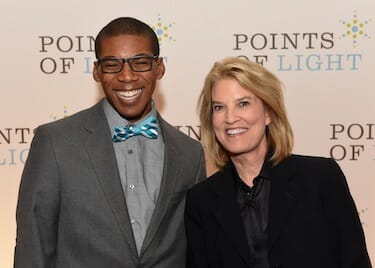 Tribute Award winner Charles Orgbon III and event emcee Greta Van Susteren share a lighthearted moment.
"We celebrate the expansion of the global service movement and recognize individuals, companies and organizations who empower others, strengthen families and lift communities," said Points of Light Chair Neil Bush, who co-hosted the event with Ambassador H.E. Cui Tiankai of the People's Republic of China.
Retired Lt. Gen. Brent Scowcroft, a key U.S. security adviser to a succession of presidents and winner of the Presidential Medal of Freedom, and Yue-Sai Kan, an Emmy-winning television host and producer whom People magazine called "the most famous woman in China," were honorary co-chairs. (See photos of the event here.)
Yue-Sai, presenting Yao Ming's Tribute Award, shared something the former NBA player told her: "Being good is commendable, but doing good is more important."
That sentiment resonated throughout the evening, particularly as the Tribute awardees – recognized for their volunteer and philanthropic work – were named. This year's honorees are: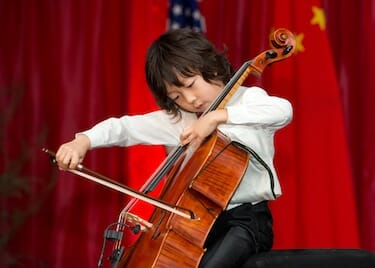 Music prodigy Justin Yu, an 8-year-old cellist, performs for the guests.
Celebrating the awardees at the Chinese embassy was a tribute to the life and legacy of President George H. W. Bush, Points of Light's founder, who cares deeply about the promotion of volunteer service and closer ties to China.
Points of Light's global network includes more than 60 cities 30 countries, including affiliates in Beijing, Hong Kong, Chengdu and Shanghai. Together they mobilize tens of thousands of volunteers who contribute their time to help meet community needs.
As the evening wound down, the focus was on the future. Accepting his award, 18-year-old Orgbon appealed to the gathering for guidance.
"Consider young people as your allies, partners and stakeholders," he said. "Help us find and project our voices."
Share this post