Cyber Monday, Black Friday, Giving Tuesday – Start the Conversation Around Giving Back This Holiday Season
With Giving Tuesday coming up on Dec. 2, now's a great time to make it easy to collect pledges of time and money for your cause this holiday season.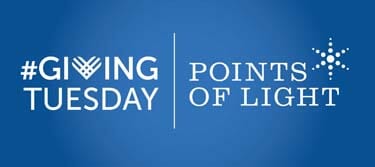 The #GivingTuesday movement started three years ago as an initiative to promote charitable giving during the holidays. This year, Points of Light is partnering with Giving Tuesday to make it easy for volunteers to pledge their time in addition to giving money to support a nonprofit – via the All for Good Volunteer Facebook App.
If you haven't had a chance to check it out yet, the All for Good Volunteer Facebook App allows any organization currently posting projects to either All for Good or a local Points of Light Affiliate to showcase their projects right on their Facebook pages. It's free. It's simple. And it takes less than five minutes to install. Click here to get started.
Once you sign up, the new Giving Tuesday Pledge banner will appear automatically on your Volunteer app on Oct. 28, making it easy for volunteers to pledge to serve with an organization of their choice and search for volunteer projects – all in the same place. You always have the option to manage the app and view stats via your admin settings panel.
Facebook and Points of Light will be conducting a webinar at 2 p.m. EST on Oct. 28 to talk about ways nonprofits can maximize the value of Giving Tuesday with social media tools like the All for Good Volunteer App. Click here to register.
Got questions? Send an email to [email protected].
Share this post