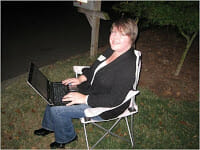 This post comes from Lori Jean Mantooth, Director of Training Programs at HandsOn Network
National Volunteer Week begins on April 10th, and it's a good time for all of us to stop and think about how we show appreciation to others. Maybe your local Starbucks barista made you the best chai latte known to man. Maybe your sister let you have the last slice of carrot cake. Maybe you know some volunteers who gave their time and their hearts to change lives.
You can thank someone with a smile and a few words, a formal banquet, or anything in between. It's the meaning behind it that makes the impact. It's the effort you put into showing that person how much you appreciate his or her act of kindness.
Think about the last time someone thanked you. What was your reaction? For most of us, a simple expression of gratitude can make us feel appreciated and cared about. It encourages us to repeat whatever it was that generated that reaction.
It's the same with volunteers. Recognition is how we show volunteers that we value their contributions and the things they do to make a difference in the community. It's so important that recognition is a staple of every volunteer management book, training, blog, article, discussion, or website.
That's why, for a few days each April, we celebrate the power of service during National Volunteer Week. We focus our collective energy on recognizing those who serve. It's a powerful testament to the impact that millions of volunteers have on our lives.
Voltaire said, "Appreciation is a wonderful thing; it makes what is excellent in others belong to us as well." And isn't that what volunteering is all about – building community, coming together to do something good? So take time this April to say thanks to all those around you who serve.
If you would like some ideas and tips for recognizing volunteers, check out some of HandsOn University's resources, such the January issue of eVOLve, the Take Root: Volunteer Management Guide, or the virtual service leader training.
Also check out these cool thank you e-cards from our friends at Volunteer Canada!
Share this post