Change Notes: GenerationOn Celebrates Youth Service

Friends,
More than 300 civic, nonprofit, government and entertainment luminaries came together in New York City for  generationOn's Annual Benefit on May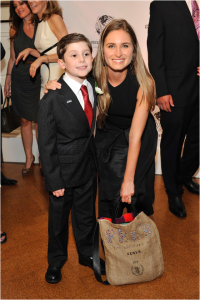 31. The event, which provides a unique opportunity to celebrate and showcase the importance of youth service, honored National Public Radio CEO Gary Knell, who received the Champion of Service and Education Award, and Lauren Bush Lauren, who was honored for her work founding The FEED Project.
Nearly $800,000 was raised in this one evening, funds that allow generationOn, the youth enterprise of Points of Light to help children and young people make their mark on the world through service.
Both Lauren and Gary were greeted by surprise award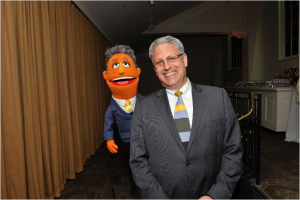 presenters. Lauren's father, Neil Bush, who was unable to attend the festivities, began the night's recognition with a heartfelt and moving tribute to his daughter via video. Gary, former head of the Sesame Street Workshop, was beaten to the podium by his doppelganger Muppet who – despite some gentle coaxing from NPR's Jackie Lyden – thanked, among others, Big Bird and Oscar the Grouch for teaching him about the importance of community and education. The real Gary Knell, after urging his Muppet to appear before the house appropriations committee in the coming weeks in his stead, spoke powerfully of the importance of service, education and encouraging and supporting young people to succeed.
Six examples of powerful young service leaders shared the stage at the event as the 2012 Hasbro Community Action Heroes. These awardees, who ranged in age from 8 to 16, were selected from across the United States for their dedication to creating positive change in their communities and around the world through their exceptional service. Each received their award from Hasbro's President and CEO Brian Goldner along with a $1,000 educational scholarship.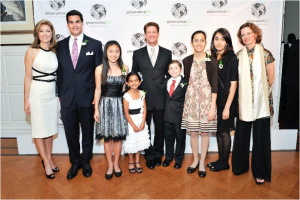 This year's honorees, whose full stories are available online, include:
Zachary Certner, 15, Morristown, N.J., advocating for special needs families
Maryam Farooq, 14, Bellrose, N.Y., working to stop bullying
Nimansha Jain, 16, Omaha, Neb., bridging generations
Cassandra Lin, 13, Westerly, R.I., turning cooking oil into fuel
Will Lourcey, 9, Fort Worth, Texas, fighting hunger
Nina Mahalingam, 8, Nashua, N.H., helping Japan recover
One of the hallmarks of generationOn is supporting service leaders throughout their lives. It was in this vein that generationOn honored two individuals who have continued to volunteer and be engaged in their communities with the Silda Wall Spitzer Children for Children Award. The honorees were:
Nuni Montaigne, a recent graduate of Brown University and active community volunteer since 2006
Sonya Sackner-Bernstein, a recent magna cum laude graduate of the University of Pennsylvania and active community volunteer since 2006
The event, featured in the Huffington Post and on NPR, was hosted and co-chaired by generationOn co-founder Silda Wall Spitzer, Kevin Arquit, Brian and Barbara Goldner and Kathy Lacey, and attracted Hollywood and business icons including The Daily Show's John Oliver, Avatar actor Stephen Lang, author Wes Moore, Polo Ralph Lauren Foundation President David Lauren, Jet Blue CEO Dave Barger and New York City Marathon winner Paul Tergat.
In service,

Michelle Nunn
CEO, Points of Light

Share this post