Change Notes: National Volunteer Week Showcases Power of Service

Friends,
We have arrived on the doorstep of National Volunteer Week – and we have arrived at a pivotal point in this country's storied and ardent belief in the power of individuals to impact the world. Service, and the future of service, has been in the spotlight recently – and so National Volunteer Week comes as a powerful reminder that many of this country's great strides came from people who voluntarily took steps to make a difference.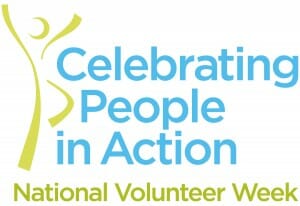 National Volunteer Week, April 10-16, draws the support and endorsement of President Barack Obama and members of Congress, governors, mayors and municipal leaders, as well as corporate and community groups. It also marks the two-year anniversary of the landmark Edward M. Kennedy Serve America Act, the largest expansion of volunteer service since the 1930s.
During National Volunteer Week, I encourage you to recognize a point of light in your life – someone who has made a meaningful difference – on Points of Light Institute's Tribute Wall. By joining this online community, you can celebrate those who have taken brave voluntary steps towards change in your neighborhoods.
All across the country, Points of Light Institute and HandsOn Network will host special events and mobilize thousands of volunteers. More than 170 HandsOn Network affiliates will be activating and recognizing volunteers with special National Volunteer Week events. Other highlights of the week include:
Make a Difference Day Awards Luncheon on April 14 will honor the 2010 National Make a Difference Day honorees and the role volunteers play in helping us achieve our national priorities through voluntary action. The event is presented by USA WEEKEND Magazine, HandsOn Network and Newman's Own, Inc. Special guests include Emmy Award-winning journalist Cokie Roberts and Grammy Award-winning musician Darius Rucker.
UPS and Hewlett Packard are teaming up with HandsOn Atlanta to refurbish Hutchison School. Employee volunteers will prepare the outdoor amphitheater-style classroom for use through weeding, planting and painting. Volunteers will also prepare six vegetable garden plots that kindergarten classes will maintain and harvest.
L'Oreal Paris, in partnership with Points of Light Institute, will kick off the sixth annual call for nominations for Women of Worth on April 11. Over the last five years, 50 amazing women have been recognized for their commitment to service and helping others. This year, L'Oreal Paris is increasing its grant to $10,000 for each of the 10 honorees for her most-cherished cause.
In partnership with Scholastic, HandsOn Network is helping bring BE BIG In Your Community Contest Winners' BIG Ideas to life including projects in Miami for Strong Women, Strong Girls; to incorporate service learning into schools by creating a rain garden at West Geauga High School and engaging teens in service through the St. Louis Youth and Family Volunteer Fair.
HandsOn Network will work with Starbucks to host service activities across the country in April as part of its Global Month of Service dedicated to engaging its partners (employees) and customers in meaningful service opportunities. Events will be held in Los Angeles on April 9, New York City on April 23 and Seattle on April 30.
I hope you'll join with us in making National Volunteer Week a time to celebrate and honor volunteers, a time to focus attention on the undeniable power of volunteerism and service as a vital part of civic leadership, and a time to reflect back on the important role that volunteeringhas played in our county's history.
Yours In Service,

CEO, Points of Light Institute
Co-Founder, HandsOn Network

Share this post