Lidia DeOliveira Recognizes her Family Members as "Points of Light"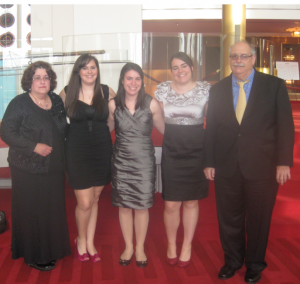 The DeOliveira Family
As we near National Volunteer Week, April 10-16th we recognize volunteers and "Points of Light" from all over the U.S who are giving back to their communities. Today we highlight a family of "Points of Light."
Today's guest post is written by Lidia DeOliveira who attended the Tribute event with her daughter's Maria, Margie, and Manuela and her husband Francisco.  The DeOliveira family is very passionate about volunteering and giving back to others.
"Like President Bush, I envision Points of Light—individuals who make a difference.  In my life, I have three shining lights— my daughters: Maria, Manuela and Margaret.  In 2004, I was diagnosed with uterine cancer, which has since been in remission.   My eldest daughter, Maria, decided to turn her fear into a good cause by volunteering her time as a Committee Member for the Ursinus College Relay For Life. She was on a mission—save a life, raise awareness, and raise donations for the American Cancer Society.
Manuela, my middle daughter, finds her passion in helping children—over the course of the last six years she has volunteered her time in Appalachia, West Virginia eleven different times!  From 2006 to 2008 she travelled to Appalachia for the Christmas holiday and Spring Break.  During the holiday season Manuela worked tirelessly with the Immaculata High School Campus Ministry to accept donated gifts, wrap them, pack the van and then drive the eight hour trek with her peers.  Once in Appalachia, she held a Christmas party for the local children.  In the Spring, Manuela travelled to Appalachia to repair houses which included roof tarring, building a porch, and painting.  Since she entered Cabrini College in 2008, she has continued travelling to Appalachia to assist the very people whom she assisted on her first trip.  Most recently, Manuela expanded her efforts with her travels to Duran, Ecaudor to learn about the impact of poverty on youth in a developing country.
My baby, Margie, life's goal is to become a doctor.  She has a profound understanding and recognition of people whom are in need and how to help them.  Determined to change her community every week, in between her hectic class schedule at Moravian College, she volunteers her time at the local hospital, food kitchen and emergency homeless shelter.  Often times, I'll receive a phone call as she's running, literally, from the bus stop to her dorm to the hospital and back.  Margie donates so much of her time to the Bethlehem, Pennsylvania community.  Margie also developed a plan in which unused cafeteria meal dollars are donated to purchase foods for the food kitchen in Bethlehem, Pennsylvania.  Recently, Margie returned from a weeklong trip with Habitat for Humanity where she constructed homes.  She is also a part time AmeriCorp volunteer.
Maria, Manuela and Margie have been honored with The Congressional Award and Manuela and Margaret received the New Jersey Jefferson Award for Public Service.
Travelling to Washington, DC for the Points of Light Tribute was an honorable, once in a lifetime experience.  My daughters, husband, Francisco, and I were delighted to be part of such a historic event.  Maria, Manuela and Margaret are an example of ordinary individuals having an extraordinary impact.  They will always be my shining points of light; now their communities and the nation can see them the way I see them—brilliant shining points of light."
Share this post