Channeling a Belief in 'Peace and Joy and Relationships' Into Good Deeds for Veterans
This week, in honor of Veterans Day, we celebrate the men and women who have served our country, who today are channeling that impulse to serve to make a difference in their communities. Meet Edwin Rodriguez.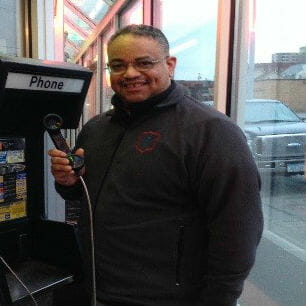 Edwin Rodriguez
As a sergeant in the military, Edwin Rodriguez learned this mantra – When you see something wrong you should do something about it.
"I continue to keep that mantra alive in my life," he says. "Life is about peace and joy and relationships."
Driven by that mentality, Rodriguez signed up for a term of service with the Veteran Leader Corps, an AmeriCorps program run by Points of Light.
After he graduated from Bellevue University last March, Rodriguez sought opportunities to help veterans while simultaneously engaging in his own career development. He landed as a Veteran Leader Corps member at Lutheran Family Services of Nebraska; he served as a job readiness coach, helping vets acquire schooling, find benefits needed to navigate their career paths, build their resumes, and boost their job-readiness skills.
"Veterans come to the table with leadership skills and valuable assets that are essential in any company but are sometimes judged by their background," Rodriguez says. "Transitioning into the civilian workforce can be difficult, but not impossible."
Rodriguez recalls a gentleman named Mr. Henderson who affected his outlook tremendously. Henderson was a highly skilled veteran in need of employment. He moved from California to Nebraska with years of experience in the electrical field.
Henderson experienced a job-related injury, in which he lost his hand. As a result, he wears a prosthesis. He could do many jobs, but not the one he had come to know and love.
"As I talked to him, I realized the unwavering sense of hope and joy that he had despite his many setbacks in life," Rodriguez recalls. "I said to myself, 'I need to get him a job.'"
Rodriguez connected Henderson with a supervisor at an auto parts store; the supervisor was also a veteran who experienced job-related injuries. Henderson landed a job at the store.
Though Rodriguez's AmeriCorps service ended last month, he says helping fellow veterans succeed remains his passion: "I want to stay committed to the process and pave the way for others."
If you'd like to serve veterans in your community, or serve alongside them, check out the opportunities at AllforGood.org.
Share this post