This post is by Jenny Lawson, vice president of corporate strategy at the Points of Light Corporate Institute.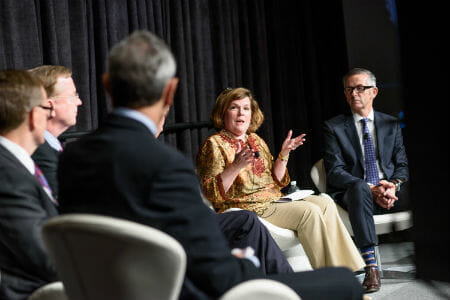 Kerry Sullivan, center, president of Bank of America's Charitable Foundation, participates in a CEO panel during the Conference on Volunteering and Service Business Track.
Having a mantra – a group of words that hold special meaning for you – can both ground you and make you feel powerful.
In the days following Points of Light's Conference on Volunteering and Service in Houston, it was terrific to hear from so many business leaders that attending the conference brought a renewed sense of power and inspiration that helped them embrace the challenge of being a change maker at their companies.
So, we at the Points of Light Corporate Institute went looking for five mantras from the conference's Business Track to remind attendees of those moments of inspiration – at least until we all meet again for next year's conference on June 27-29 in Detroit.
Enjoy!
"Volunteering is part of America's infrastructure of opportunity," – Joaquin Castro, U.S. Congressman (Texas), Opening Plenary
"Don't be discouraged by life's little stings. Get back up and spread your wings," Mikaila Ulmer, 11-year-old CEO, Bee Sweet Lemonade, Business Track Opening, CEO Session
"You need to have patience for change and also the urgency to act," – Emily Saunoi-Sandgren, manager, corporate social responsibility, Target, followed by, "But don't let perfection get in your way," from Anna Cunningham, manager, community investments, Starbucks, Workshop: From Cause Marketing to Purpose Driven Brands
"How can we use data not only to decide what kind of movie we want to watch, but also what kind of world we want to live in?" – Miriam Young, communications specialist, DataKind, Workshop: Using Big Data to Advance Social Missions
"The new 17 Sustainable Development Goals around poverty, hunger, education and gender equality are key to the success of future generations and the health of our planet," – Sue Stephenson, vice president, Community Footprints, The Ritz Carlton Hotel Company, Workshop: IMPACT 2030: Achieving the Sustainable Development Goals through Employee Volunteerism
As you reflect on these mantras and get inspired to take the next step, we invite you to explore all the presentations, articles, highlights and resources from the 2015 Business Track on our resources website.
What's your mantra?
Drop us a line at [email protected].
Share this post