From Charitable Giving to Strategic Philanthropy – The Advisory Board Makes An Impact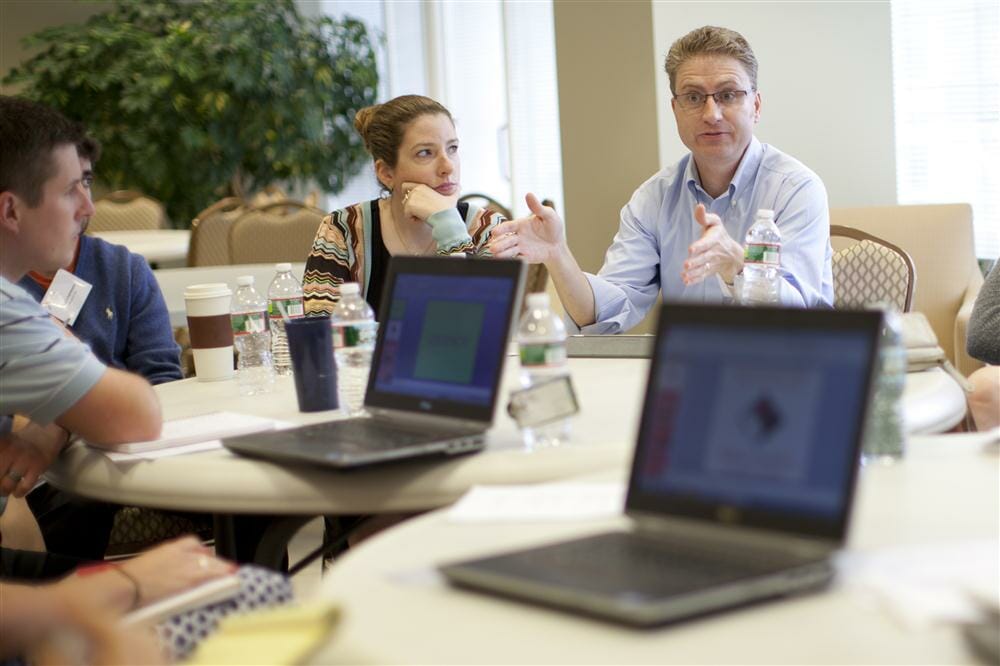 Today's post is written by Yvonne Siu, marketing manager, A Billion + Change.
Imagine receiving a new brand identity your nonprofit could use to launch a rebranding of your organization – for free. Or imagine engaging a team of your best and brightest employees to research and create a pitch presentation for a high-performing charter school – with 24-hours notice.
These are just two examples of the creative ways that The Advisory Board Company, a global research, consulting and technology firm, has found to engage its employee base in skills-based volunteering during its Week of Service this October. From Oct. 1-5, the company is mobilizing almost 2,000 employees to volunteer approximately 3,500 hours across the country and around the world. Activities include traditional volunteer work, like partnering with Meals on Wheels to feed the elderly and working with Montopolis Preserve on clean-up efforts, to doing marathon sessions of strategic pro bono projects for Achievement Prep, a top-rated charter school, and New Futures, a nonprofit that offers financial and mentoring support to low-income youth in Washington, D.C.
"We're proud that we can utilize the unique talents and skills of our employees – many of whom are passionate about social issues – to drive high-impact change in the education and healthcare sectors," said Graham McLaughlin, senior director of the Advisory' Board's Community Impact Program.
On the third day of the company's Week of Service, a young and energetic marketing team presented a new logo and tagline they had developed for New Futures during its "Branding Blitz." Their creativity and passion were evident, and were matched by the surprise and excitement of the nonprofits in the room.
"Once again, we are amazed at the talent and enthusiasm the Advisory Board brings to their philanthropic work. The Branding Blitz was an incredible experience for New Futures. Each of the logos is absolutely beautiful. I have no idea how we'll ever choose just one. " said Liz Daley, director of development at New Futures. It comes as such a welcome contribution, as funders generally want to funnel their support directly to our programmatic work, which can't support our marketing and operational needs."
Another project in the firm's "Branding Blitz" was a pitch presentation and brand identity guidelines created for Suited for Change, a nonprofit that provides professional clothing and ongoing career education to low-income women. "We were so overwhelmed by the depth of the Advisory Board team's understanding in under an hour of the challenges we have been facing, words fail us… but not them," said a representative from Suited for Change.
The Advisory Board, A Billion + Change pledge company, is one of hundreds of businesses nationwide that are having this kind of impact. One by one, companies are undertaking a strategic shift from charitable giving and "hands-on" volunteering to more skills-based, pro bono support for the social sector. Support like this is exactly what nonprofits need the most right now, as research shows that the value of pro bono projects in areas such as general operations and professional services can be 500 percent greater than the value of traditional volunteering. Skills-based volunteering is also becoming a strategic talent management and talent development tool for many businesses looking to recruit and retain the best employees.
At A Billion + Change, we encourage businesses of every size and across every sector to ask themselves: How can we lead change through service? How can we give back to our communities in meaningful ways? If you'd like to learn more about what others are doing, visit A Billion + Change's website and consider taking the A Billion + Change pledge. You can, like the Advisory Board, engage your employees and make a deep impact on the social sector through the power of pro bono.
Share this post