Civil Rights in the Nonprofit Sector With HandsOn Greater Richmond and CAF Southern Africa
While human and civil rights have been issues at the forefront of society for generations, they've increasingly gained traction over the past hundred years or so. And in the past several years, with more viral footage of racial injustices, it's become a prominent issue that can no longer be denied. With a focus on promoting equity and fighting discrimination, many nonprofits are leading the charge in a more just society.
HandsOn Greater Richmond, a Points of Light Global Network affiliate and the volunteer center program of the Community Foundation for a greater Richmond, is actively striving to offer equitable experiences and continue to improve their internal processes. 
The nonprofit partners with individuals, families and organizations to make giving easy and effective, strengthens nonprofit organizations through grants, training, volunteer mobilization and other supports, provides leadership and insight to important community issues and promotes a culture of philanthropy and service. HandsOn Greater Richmond helps people find their civic path, supporting them in finding out how they can use their time and money.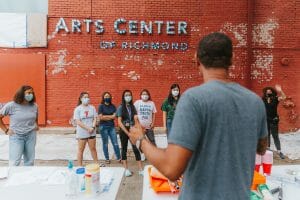 "Our work is to build mutually beneficial relationships," said Vanessa Diamond, senior vice president, Civic Innovations. "Our job is to effectively educate, engage and inform people who are interested in a certain topic area. To do this shifts the power dynamics so that we're volunteering with community, not just to community."
Their goal is for community members to be informed and educated about the region as well as their own knowledge and motives, before helping, honoring the lived experiences of the populations in the region. 
Through their four-step Giving Back Guide, HandsOn Greater Richmond helps civically-minded individuals to more strategically direct their energy, aligning their passions, skills and talents with an issue their community needs.
The nonprofit also uses a set of guiding principles as a framework for all of their initiatives and decision-making. "The RVA Engage Vision and Guiding Principles were developed in 2019 through a collaboration of community engagement professionals in the nonprofit, corporate and educational sectors," Vanessa explained. "They were shared at the 2019 Civic Impact Summit and continue to serve as a foundation for many conversations throughout the region."
Another Points of Light Global Network affiliate partner, CAF Southern Africa, is a civil society infrastructure organization acting as an intermediary at the intersection between philanthropy and civil society. CAFSA's primary reason for being is to grow and champion charitable giving in order to support a vibrant and resilient civil society, which is one of the core pillars of South Africa's young democracy.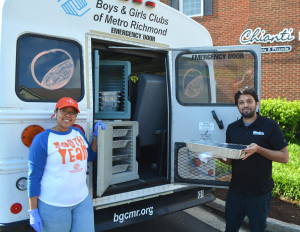 As an intermediary, CAFSA is well-placed to understand the needs of both its corporate and nonprofit clients. CAFSA is both a purpose and a knowledge-driven business, and so all their consulting and advisory work with corporate clients is based on evidenced-based research. CAF produces the annual World Giving Index Report, which measures generosity behaviors, such as donating money, time and goods to those in need. The WGI also tracks giving trends across the globe and enables CAFSA to monitor these generosity behaviors closely.
CAFSA is cause-neutral, which means the organization leaves no good cause behind. The organization focuses its interventions on the groups and communities who are most marginalised in society. 
Gill Bates, CAFSA's CEO, shared, "After the apartheid era ended, the country was liberated from an inhumane regime which systematically excluded people of color from the economy, employment, quality education, housing and healthcare. In spite of this hard-won political liberation, South Africa continues to struggle with the apartheid inheritance of poverty, inequality and unemployment. While South Africa is now a constitutional democracy and is regarded as a middle income country, the nation continues to have one of the highest ratios of income inequality in the world." 
CAFSA's nonprofit partners work across all sectors, including but not limited to child welfare, care of the elderly and those with disabilities, women's rights groups, education, literacy crisis intervention, environmental activism, youth development, entrepreneurship, social justice and alleviation of poverty and hunger.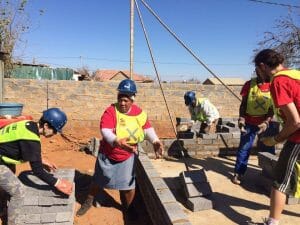 "Volunteering in South Africa is ingrained in the fabric of the country's philosophy of Ubuntu, which, loosely translated means 'a person is a person because of other people.' In other words, I am because you are. This speaks to our humanity as a people," Gill shared. "Another African proverb expresses similar sentiments and says, 'If you want to go fast, go alone. If you want far, go together.' Volunteering is a critical component of a civically engaged life, particularly in South Africa. Civil society and the nonprofit sectors are critical components of South Africa's young democracy and continue to hold the government, the corporate sector and itself accountable." 
Serendipitously, HandsOn Greater Richmond's Vanessa Diamond shared that she's been using her voice since childhood thanks to parents who were activists in anti-arparthied South Africa. She encourages anyone looking to lead a more civically engaged life to find an issue important to them and then get educated on the solutions before jumping in. 
"Really explore to determine what kind of organization you want to be contributing your time, effort, money and voice to," Vanessa says. "If you're really inspired or really angry about something that's happening, that will ensure you have the passion to actively be a part of the solution. You have what it takes to make the difference. We often think someone else will do it, but it's up to all of us to be the solution."
Connect with HandsOn Greater Richmond on Facebook, Twitter and Instagram.
Connect with CAF Southern Africa on Facebook, Twitter, LinkedIn and YouTube.
Share this post