Commonwealth Point of Light Spreads Essential Supplies in the Gem of Africa
When Kagiso Madibana created her charity, the Nayang Association, she knew it would eventually be adaptive to meet the evolving needs of her village. She started off collecting and distributing shoes to young people in the remote villages of Botswana, but in time, Madibana realized that she could help create bridges between her community and essential items like sanitation pads and hand sanitizer — especially during the COVID-19 pandemic. 
Madibana returned to Botswana, known as the Gem of Africa, in 2012 after finishing her master's degree on scholarship in media and communications in England. As part of her scholarship, Madibana committed two years after her studies to her choice of community service. She took community service to the next level by creating the Nayang Association, and hopes to turn it into a full social enterprise.  
"This charity is my baby," Madibana said. "We still have villages where lacking shoes is very rampant — kids literally travel to school without shoes and we're talking about a country that is like a semi-arid desert." she added.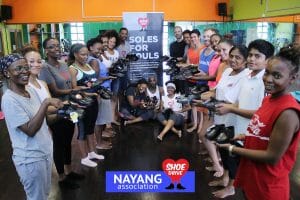 Remote students commonly walk miles back and forth to school in broken shoes or barefoot, even in the winter months, to make it to class every day. To meet this need for suitable footwear, Madibana created one of the main Nayang Association's programs, Soles for Souls, and has collected more than 6,000 pairs of shoes for kids and students. 
While building relationships with teachers of partnering schools, Madibana realized that teenage girls can miss around 50 days of school every year if they don't have proper sanitation pads. This unmet issue became something she wanted to be a part of solving, and the Nayang Association has distributed more than 10,000 pads to girls in need since 2015. 
Before Madibana began her work, it was common for teachers to spend their own money on resources like shoes and pads for their students. 
Her spirit of community service has not gone unrecognized. The Prime Minister of the United Kingdom awarded Madibana with a Commonwealth Point of Light award for her service and dedication to being a global leader of transformative change. 
The Nayang Association operated throughout the COVID-19 pandemic, but the charity followed CDC guidelines and were unable to guarantee the right sized shoes for students without fitting them in person before sending pairs out for distribution. However, the charity quickly began incorporating purchased and donated hand sanitizers with their shoes to children and their families to help reduce the spread of the virus.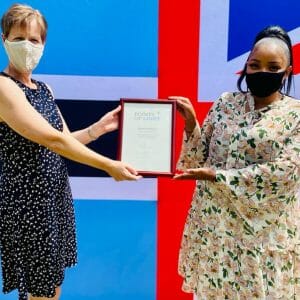 Shoe donation is a continuous need that will always need champions of service like Madibana since a child's shoe size can change in the matter of months. Most of the shoes of Soles for Souls are donated from individuals and companies, with the charity filling in any gaps if any child still needs a pair of shoes. 
Madibana is excited about the charity's upcoming branded shoe launch which involves various members of her village through the design, construction and manufacturing phases. It's been a dream of hers for nearly three years since the charity frequently purchases ready-made shoes from countries like South Africa and Zimbabwe. The Nayang Association team is looking forward to creating sources of employment and working with local artists, Madibana said. 
The charity has also been constructing ablution blocks — buildings that house private showers and toilets — for children in the villages it serves. 
"My thing has always been to tell people that you don't have to be rich in order to make a difference. Find out what a local charity is doing, especially if it's close to your heart," Madibana said. 
Share this post