Creating a Global Community Through Local Acts of Service – and Learning Along the Way
An army of volunteers responded over the weekend to community issues by creating, leading and engaging others in projects designed to fit each community's unique needs. They read to children in Miami to address literacy challenges, cleared soccer fields in New York to give kids a safe place to play, added sweat equity to a home in Los Angeles to benefit a veteran and more.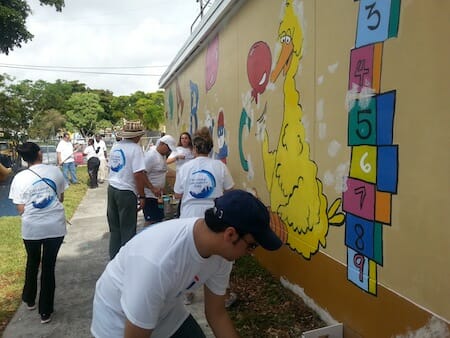 Volunteers paint a mural at the Liberty City Head Start Center as part of a Citi Global Community Day project organized by Greater Miami Service Corps, which hosts ServiceWorks.
Members of the ServiceWorks program – as well as Citi employees, friends and family – volunteered at Saturday's events, part of Citi's Global Community Day. That day, more than 70,000 Citi volunteers served communities around the world.
In the U.S., from New York to Los Angeles, Citi volunteers worked alongside teams of ServiceWorks participants and the AmeriCorps VISTA members who guide the young people through the program.
ServiceWorks – a national program supported by Points of Light, the Citi Foundation and the Corporation for National and Community Service – uses volunteer service to help underserved young adults in 10 cities develop the skills they need to prepare for college and careers.
Citi's Global Community Day provided a great opportunity to shine a light on the effort and energy that is ServiceWorks. Through the myriad of projects, ServiceWorks participants demonstrated that they are learning to tap into their own power to be change agents in their communities, while developing the skills and relationships that will set them on a path toward success.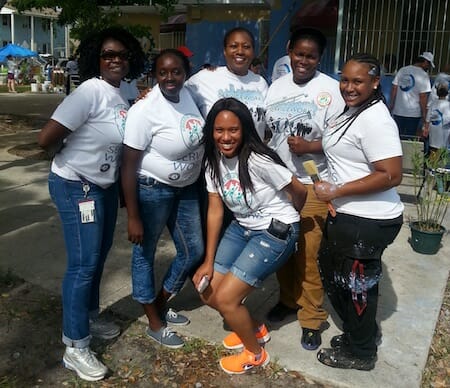 Volunteers at a Miami-based Citi Global Community Day service project, alongside participants of the ServiceWorks program, show their pride.
Service – the key ingredient of ServiceWorks – is a proven way to help us feel connected, to our communities and to each other. Too many young people from low-income families aren't reaching their potential, in part because they lack support.
ServiceWorks participants, young people ages 16 to 24 from low-income households, benefit from training on a host of skills, from volunteer service project planning to conflict resolution to collaborating in a group.
Skilled professionals – including Citi employees – volunteer as success coaches, skills trainers and workshop facilitators throughout the program.
And the young participants use their newly developed skills to create service projects, such as the activities they took part in for Citi's Global Community Day.
Eighteen-year-old Emmanuel Harris, a ServiceWorks participant in Chicago, told us recently, "What I liked most about the ServiceWorks program is the volunteer service – that we were able to help people who were truly in need. It made my day to see that I had a hand in making their day."
Share this post