Would You Know What to Do in a Disaster? We Can Help You Get Prepared
Summer officially starts this weekend, which means we can look forward to some warm and sunny weather across the country. It also means that hurricane season is in full swing in the mid-Atlantic region; tornado season is rolling across the plains states and the Midwest; and the West coast is bracing itself for wildfires.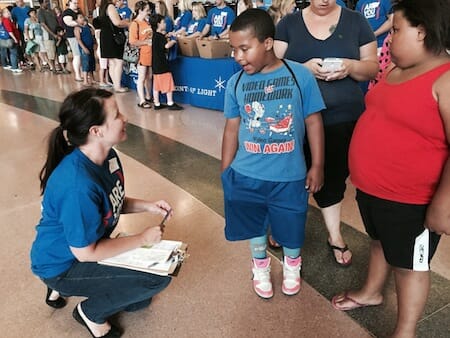 Eight-year-old Cash, center, learns about disaster preparedness from an Allstate volunteer in Cincinnati. He later said, "I got a backpack of tools to keep my sisters safe!"
Since 1980, weather-related disasters have more than doubled. Yet, research shows that 85 percent of Americans are not prepared for disaster.
Are you?
Education and preparation are essential in helping to prevent unnecessary loss of life and property. To help people across the country get prepared, The Allstate Foundation and Points of Light have launched a 14-city disaster preparedness and education tour. Throughout the tour, tens of thousands of people will have the chance to put together their own disaster preparedness kits – including hand-crank flashlights, first aid kits and other essentials – and to learn strategies they can use to stay safe.
This weekend, the tour stops in Seattle and Reston, Virginia. In Seattle, we'll team up with local Allstate agents and volunteers from Seattle Works at the Fremont Fair from 10 a.m to 2 p.m. on Saturday. And in Reston, just outside Washington, D.C., we'll join local Allstate agents and Volunteer Fairfax at the Taste of Reston from noon to 4 p.m.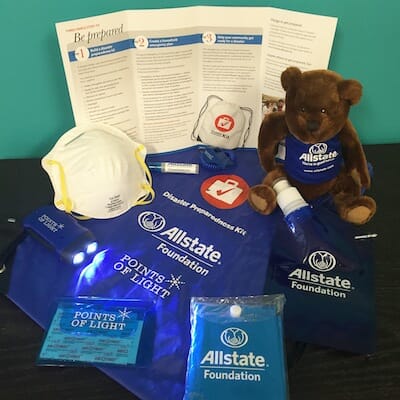 A sample disaster preparedness starter kit
Both events will give members of the community a chance to learn valuable information about disaster risks in their areas and to take home a disaster kit of their own.
So far the tour has stopped in Oklahoma City; Springfield, Missouri; Houston; West Palm Beach, Florida; and Cincinnati. Future stops include New Orleans; Bergen County, New Jersey; Boston; Charleston, South Carolina; Coney Island, New York; Oakland, California; and Chicago.
Can't Attend an Event? Here's What You Can Do to Get Prepared
One of the most effective ways to stay safe in the aftermath of a disaster is to have a plan and supplies in place. Getting ready is a matter of three simple steps:
Build a disaster preparedness kit. Our starter kits (see photo above) include a first aid kit, hand-crank flashlight, blanket, water bottle, rain poncho, whistle, dust mask, hand sanitizer and a trash bag. Start there, then add to it until you have everything you need.
Create a household emergency plan. Make sure it includes a designated family meeting place in your neighborhood.
Help your community get ready for a disaster. Spread the word of disaster preparedness and consider participating in an official disaster training. Visit goodandready.org/trainings for more information.
For tools and resources, visit Good & Ready, an emergency preparedness program led by Points of Light, with Ready.gov, the American Red Cross and the Federal Alliance for Safe Homes, with support from Target and The Allstate Foundation.
It doesn't matter where you live, disasters can strike anywhere, at any time. Don't wait. Get Good & Ready today!
Share this post