Digging Out of Debt With Help From Volunteer Financial Coaches
Even with a full-time job, Cat struggled with her finances. She had amassed significant student loan and credit card debt and was having trouble managing her money.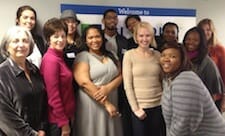 But thanks to a financial coach who came to her through the Financial Opportunity Corps, Cat recently created a budget and identified places where she can cut spending and move toward a debt-free future.
"I think one of the benefits of this program is having a person who is not judgmental and not as emotionally connected to my money and spending as I am," says Cat, a social worker.
The Financial Opportunity Corps recruits and trains volunteers as financial coaches who then help people from low- and moderate-income households achieve financial stability. The program is a partnership between Points of Light, Bank of America and the Corporation for National and Community Service.
The corps is made up of 20 AmeriCorps VISTA members working from nonprofits in 10 cities across the country. In Philadelphia, where Cat lives, Financial Opportunity Corps members Caroline Ezzo and Thomas Revelle have spent the past six months helping the staff of a local nonprofit establish a financial coaching program fueled by volunteers. The 47-year-old nonprofit, Clarifi, offers financial counseling and education to 15,000 clients each year.
So far Ezzo and Revelle have recruited, trained and activated 21 coaching pairs. In such pairings, a coach is matched with a client based on logistics, personality and complexity of the financial goal. Ezzo and Revelle plan to add up to 10 more coaching pairs every month.
The effort is paying off for dozens of clients – including Cat, who has been able to reduce her monthly student loan payment from $500 to $200. She says her financial coach has been instrumental in helping her become more financially secure.
"It's hard for me to set concrete steps to achieve my financial goals, because it's hard to see the big financial picture," Cat says. "My coach helps me to look at my finances with a new perspective and helps me to set small, achievable goals to help me build confidence in my ability to manage my money."
Share this post